Baked meatballs make a spaghetti dinner complete. One of the very few recipes where you can get your hands dirty, and be the perfectionist you've been hiding in all this time.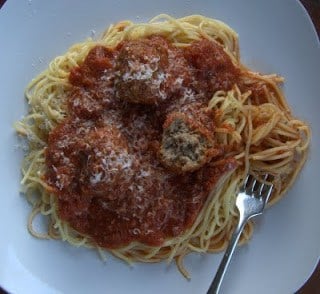 I can't tell you how thrilled I am that I have my own baked meatball recipe. They're loads better than the store bought.
As you can guess, I didn't bake the spaghetti. It's all about the meatballs tonight, friends. And, if I'm being honest, it's just a tiny step below from being the best meatball recipe. Of course, I'm biased but who isn't when they make something this darn good, especially meatballs! I've only ever made my meatballs one way: with a recipe using ground beef from my Better Homes and Gardens Cookbook, and always cooked them in a skillet on the stove top. I like that recipe as does the family, but we can always try something new and see if we like those better. After all, isn't that what having fun in the kitchen is all about?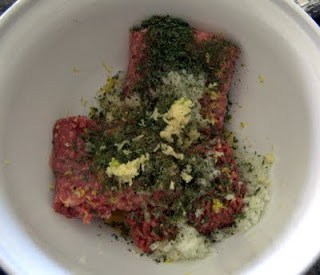 Experimenting!
Sometimes what you make may not turn out that great or really horrible actually, as in the case with the Indian Pudding OR you could have something look and taste a WHOLE bunch better than you ever expected it to as with that luscious Lemon Meringue Pie. Oh man, I could use a BIG piece of that right now!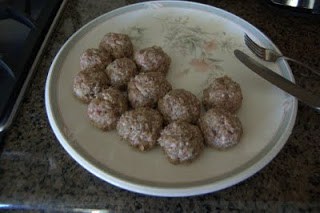 I've heard that the best meatballs are made with three kinds of meat, so we'll be putting that to the test.
I didn't go crazy and make the sauce from scratch, so don't get too excited. I do have a life which included a hair appointment and taxing a child to volleyball practice down that highway. As a side note, I didn't have any problems with drivers in the high-speed lane today, they must have all read yesterday's post, or you let them know about it. Thank you, I very much appreciate it! I'm off to roll out the meatballs, retrieve the said child, eat dinner and then watch 'Chopped'. I also have to organize my coupon binder. It's going to be a FUN night here at the 365 abodes. I know you're jealous. I can see it in your eyes.