A strawberry and chia seed smoothie bowl is a delicious start to your day. Topped with fresh strawberries, chocolate chips and crunchy chia seeds, this breakfast is full of flavor!
I am so excited for spring and fresh summer berries. When I saw strawberries from Florida show up in my supermarket, I grabbed several cartons. You just can't go wrong with fresh strawberries in strawberry bread, strawberry cake or strawberry sauce. But they're excellent in gluten-free and healthier recipes like this Strawberry Chia Seed Smoothie Bowl, too.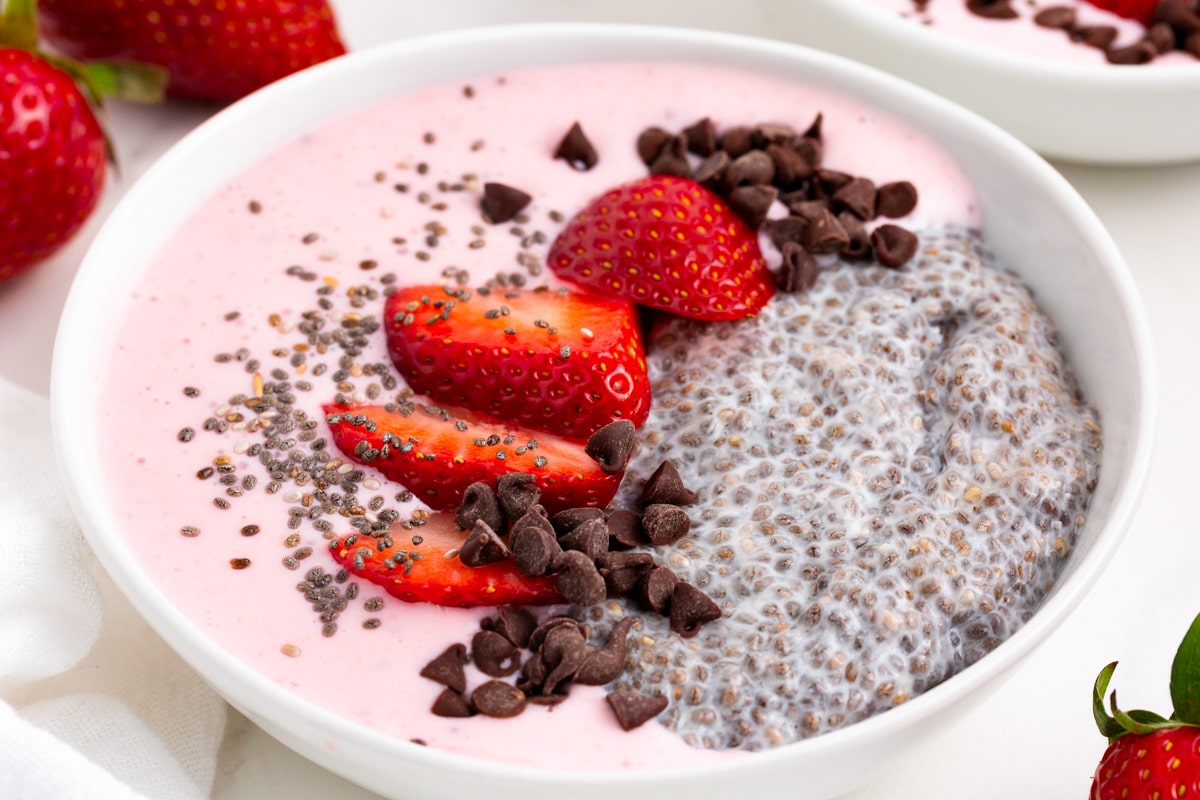 About this Strawberry Chia Seed Smoothie Bowl:
Flavor: You'll have strawberry flavor with a touch of honey as the main flavors. Chia seed pudding does not have a strong flavor, but rather complements other flavors of strawberry, honey and chocolate.
Texture: Thick chia pudding is has slight texture but is otherwise creamy and cool. It pairs well with the strawberry yogurt which is completely smooth. Chocolate chips and strawberries add texture, but nothing in this is "crunchy", which my kids love.
How to Arrange A Smoothie Bowl
Of course, it isn't necessary to create the two sides here like we show in the pictures, or the lines of toppings. Although we do usually eat with our eyes first!
On one side of the bowl, pour about ½ cup chia seed mixture. Use a silicone spatula to "hold" the chia mixture on one side of the bowl while pouring ½ cup of smoothie on the other side. Remove the spatula and the two sides will meet in the middle.
No matter how you arrange the bowl, the bright, beautiful color of the berries will make it look amazing. Smoothie bowls are so fun to get creative with.
Advance Prep for Smoothie Bowls
The best part about it is that most of the work is done the night before, just assemble and add the toppings in the morning. The chia seed mixture and strawberry yogurt will also last several days so you can meal prep in advance for the entire week.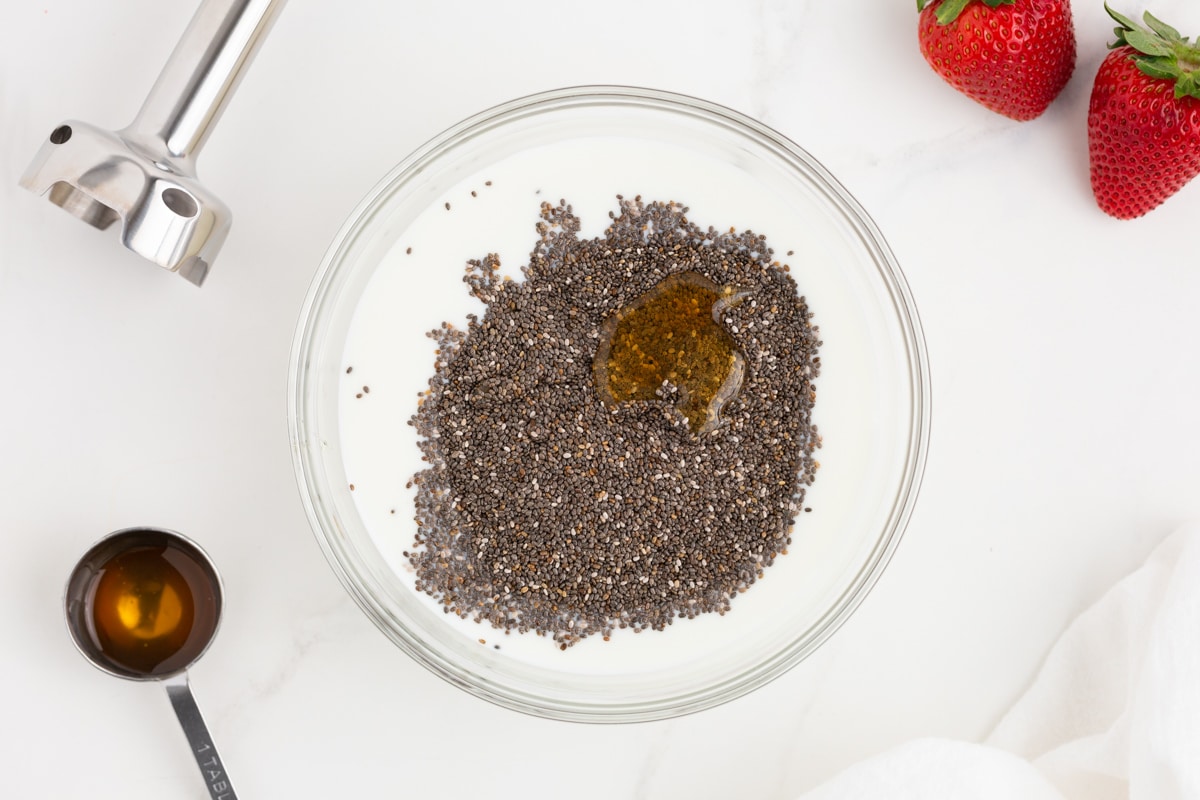 Recipe Variations
Once you've tried making this smoothie bowl, you can use the same technique as your inspiration to create bowls with other fruits and toppings. There are endless flavors to explore.
Add mashed ripe bananas to the chia seed pudding, or you could add sliced bananas to the top of the bowl.
Make your own homemade granola and sprinkle it over the top.
Add ½ teaspoon of almond extract to the yogurt, then add a line of almonds to the top of the bowl.
Need a boost of protein? Add protein powder to the either of the two bases of the smoothie bowl.