Skillet Chicken and Mushroom Wine Sauce – easy, elegant and delicious!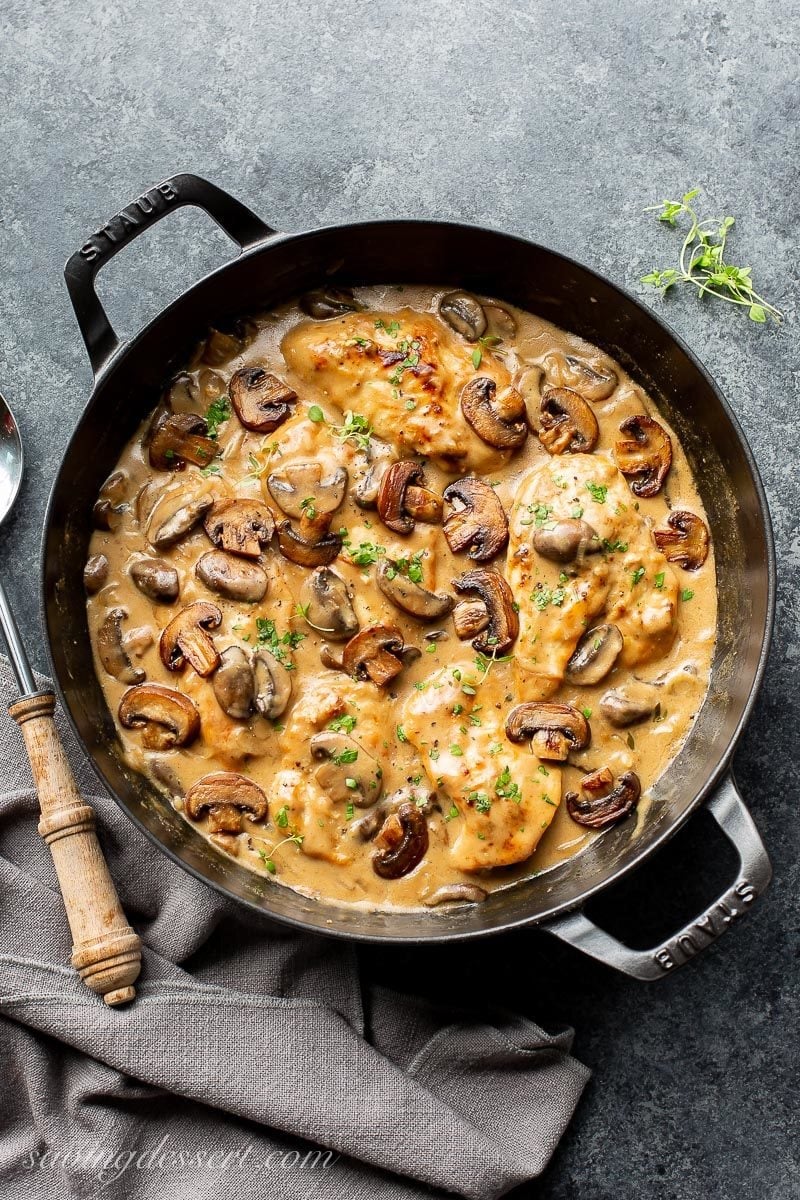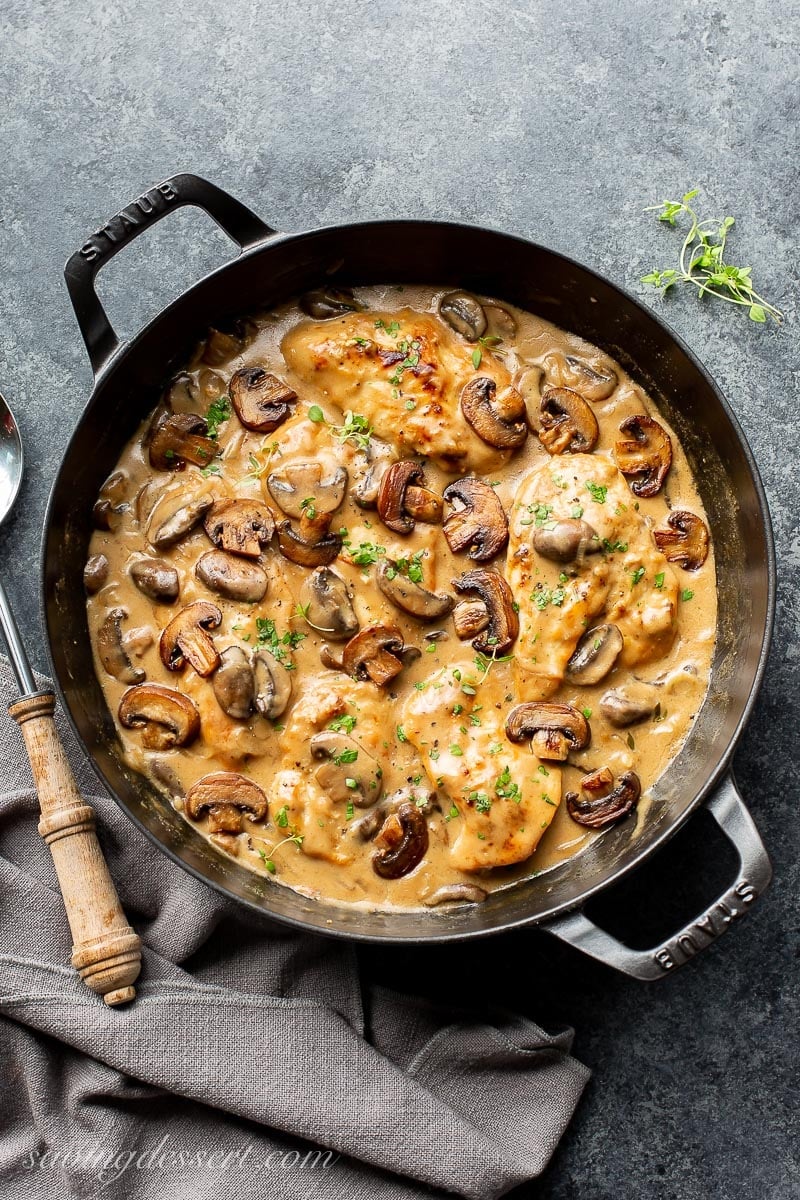 Tender and flavorful Skillet Chicken and Mushroom Wine Sauce
This Chicken and Mushroom dish is easy enough for a weeknight but good enough for an elegant dinner party with your best company!
I adore everything about this dish and bet you will too! This delicious recipe for Skillet Chicken and Mushroom Wine Sauce was first posted in 2015 and has been a favorite ever since.
I've streamlined the process a little and tweaked the recipe just a bit, but it's still the same one-pan, moan-worthy, restaurant quality chicken dish we love and depend on.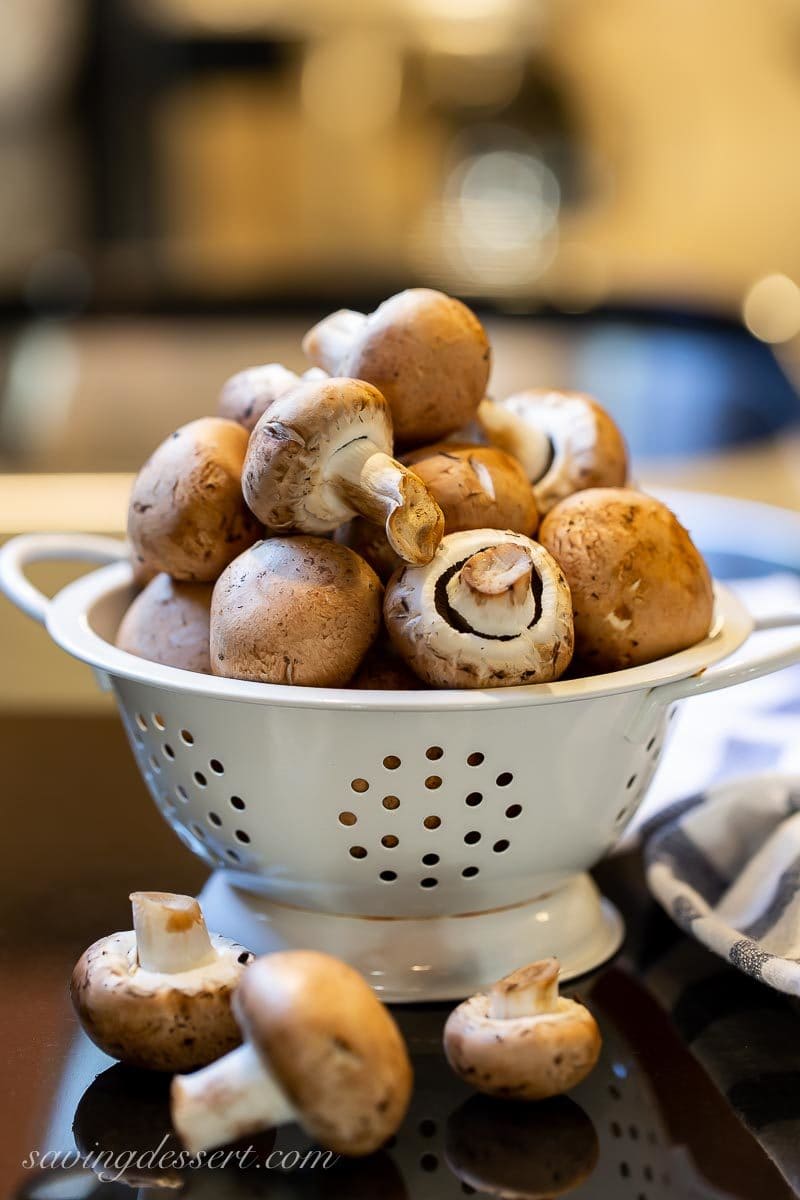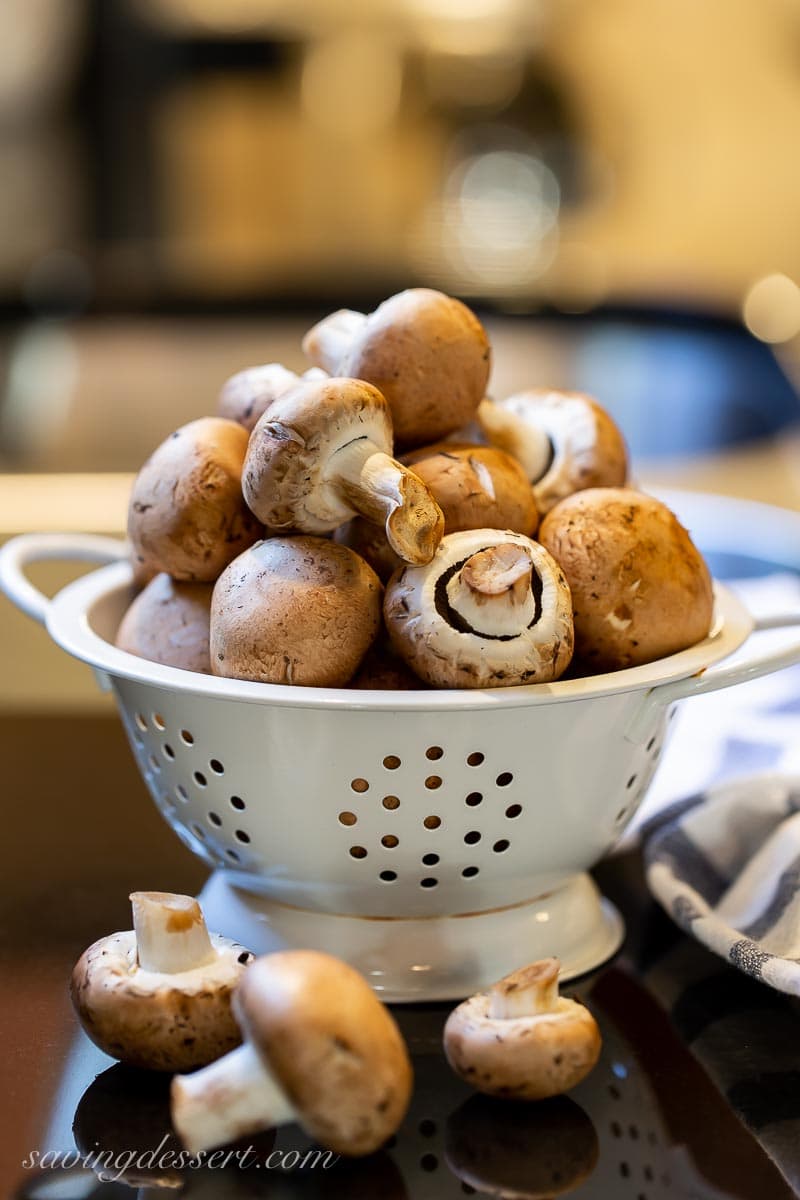 What kind of mushrooms are best for this Skillet Chicken and Mushroom Wine Sauce?
For this recipe I'm not stuck on using one kind of mushroom. I often see which mushrooms look best when I get to the store and go with it. The mushrooms featured in the photos above are Baby Bella's.
These deliciously earthy mushrooms are a smaller version of the popular portabella mushroom. Baby bella's are cremini mushrooms that have been allowed to mature for 7 days longer than commercial cremini mushrooms.
For this dish you can also use white mushrooms or a mixture of the two.
What's the best way to clean mushrooms?
Mushrooms grow in a damp environment so they are fine to be washed. However, I never let mushrooms sit in water or they'll eventually start to soak up the liquid. I clean each mushroom individually by wiping with a water soaked paper towel to remove the dirt.
You can also lightly rinse the mushroom under a stream of water, but if the gills are exposed under the cap I usually don't turn the mushroom upside down in the water. Allow the mushrooms to dry in a strainer or pat dry with paper towels.
Is it okay to cook the mushroom stems too?
Yes, please use the entire mushroom. Just cut off the rough, woody, dried up end of the mushroom before using.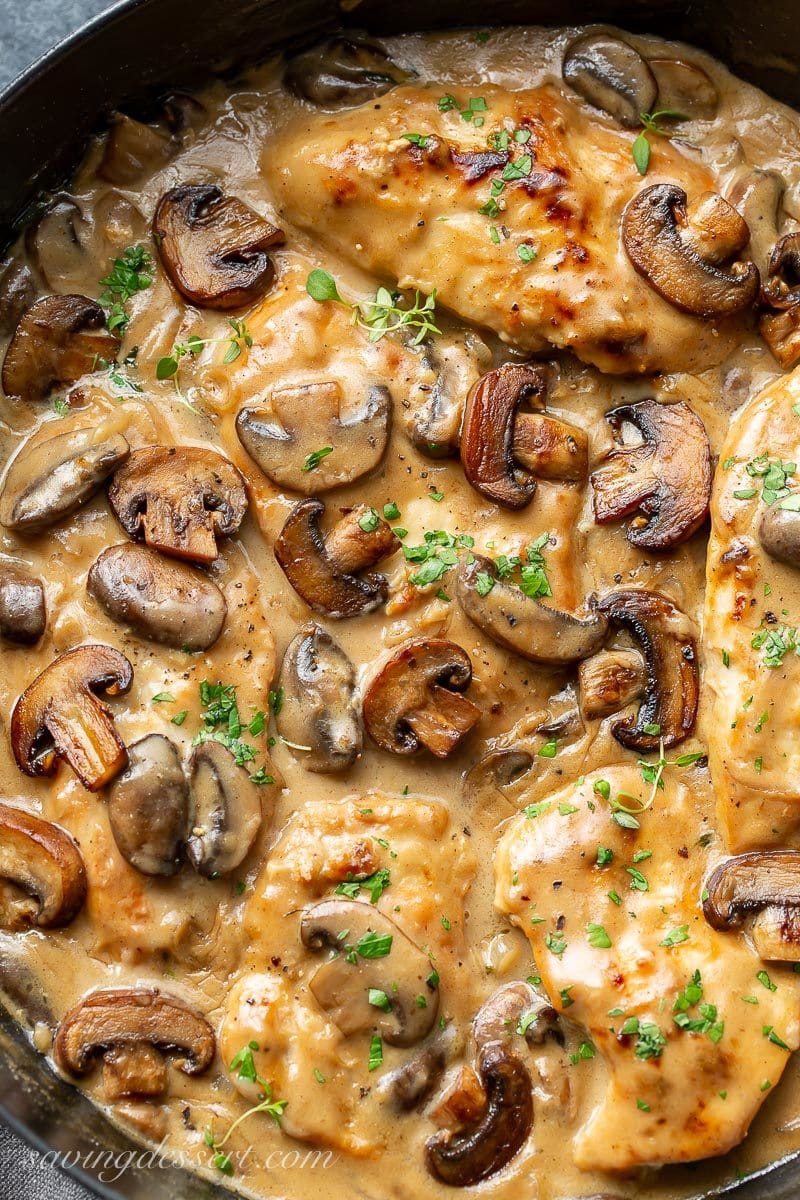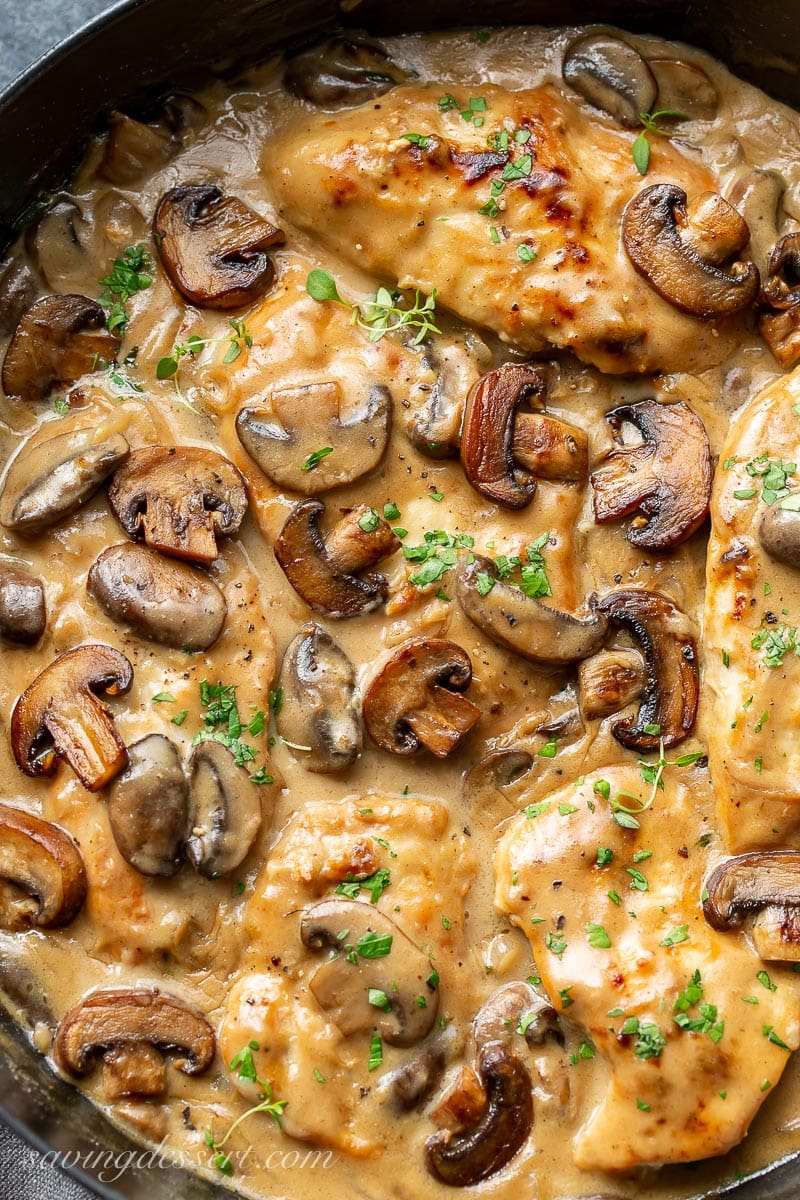 What are the secrets that make this dish so flavorful?
Building layers of flavor is the simple, easy way to make a dish flavorful. First, brown the chicken to seal in the juices then set aside to rest. All those nice flavorful bits of chicken goodness remain in the pan for the next step.
Next, cook the mushrooms, undisturbed, until dark golden brown on one side. Flip the mushrooms and stir until the moisture is released, and then evaporated. Add a hefty pile of thinly sliced shallots to the pan and sauté until tender and starting to caramelize.
Quickly sauté minced garlic with the mushrooms just until fragrant, about 30 seconds.
Next, carefully pour the white wine into the hot pan. Stir quickly while scrapping up the bottom of the pan to deglaze. This process incorporates all those crusty bits of flavor into the sauce building all that amazing flavor.
Finish the dish by adding fresh thyme sprigs, chicken broth, Dijon mustard and a little cream. Heat just until the sauce is thickened and warmed through.
Can you double this sauce / gravy in this dish?
Yes you can! However, take care to brown everything in batches to achieve the best flavor and color.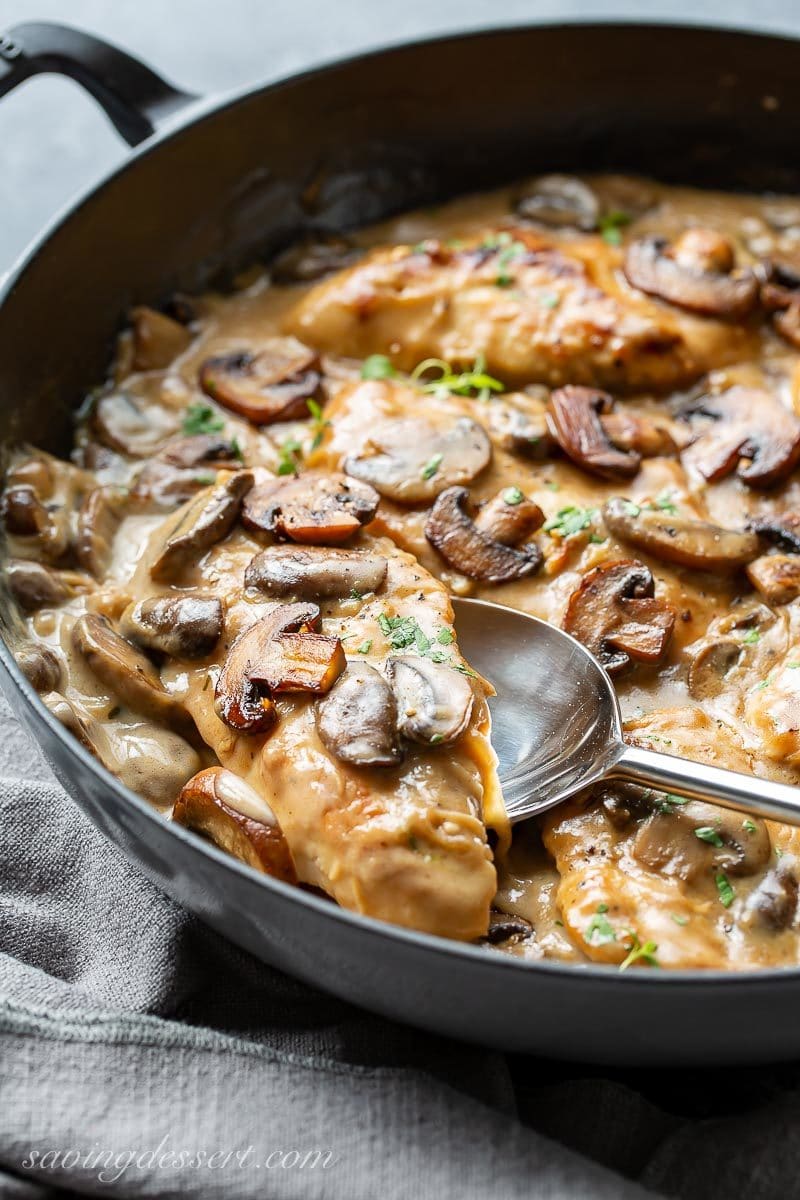 Cut the chicken breasts in half diagonally to create quick cooking cutlets.
This chicken is not just any old dried up piece of bird. These cutlets are tender, moist, juicy and delicious bites of chicken! Cutting chicken breasts into thinner cutlet size pieces helps the chicken cook quickly and more evenly.
You can cut your own chicken breasts or buy them from your local grocery store packaged as cutlets. Chicken tenders would be fine here too, just adjust the cooking time.
Another alternative is to use whole chicken breasts that have been pounded to an even thickness. And finally, feel free to use boneless, skinless chicken thighs in this chicken mushroom recipe, too. It's all good!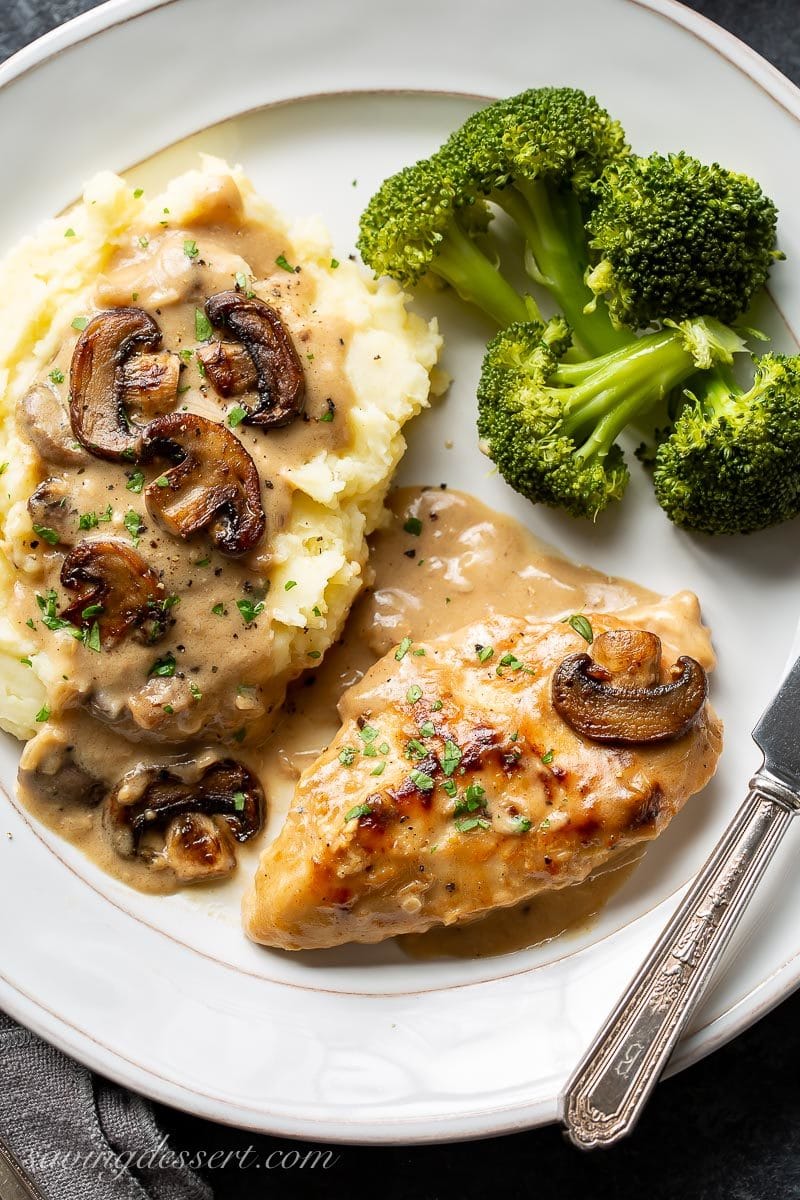 What's the best way to serve this Skillet Chicken and Mushroom Wine Sauce?
We like to serve this chicken with something fresh and green like a salad, steamed broccoli, green beans or oven roasted Brussels sprouts. In addition to something green, serve this creamy chicken with wild rice, buttery mashed potatoes or a nice flat noodle. However, don't forget the crusty bread to soak up the wine sauce. Yummy!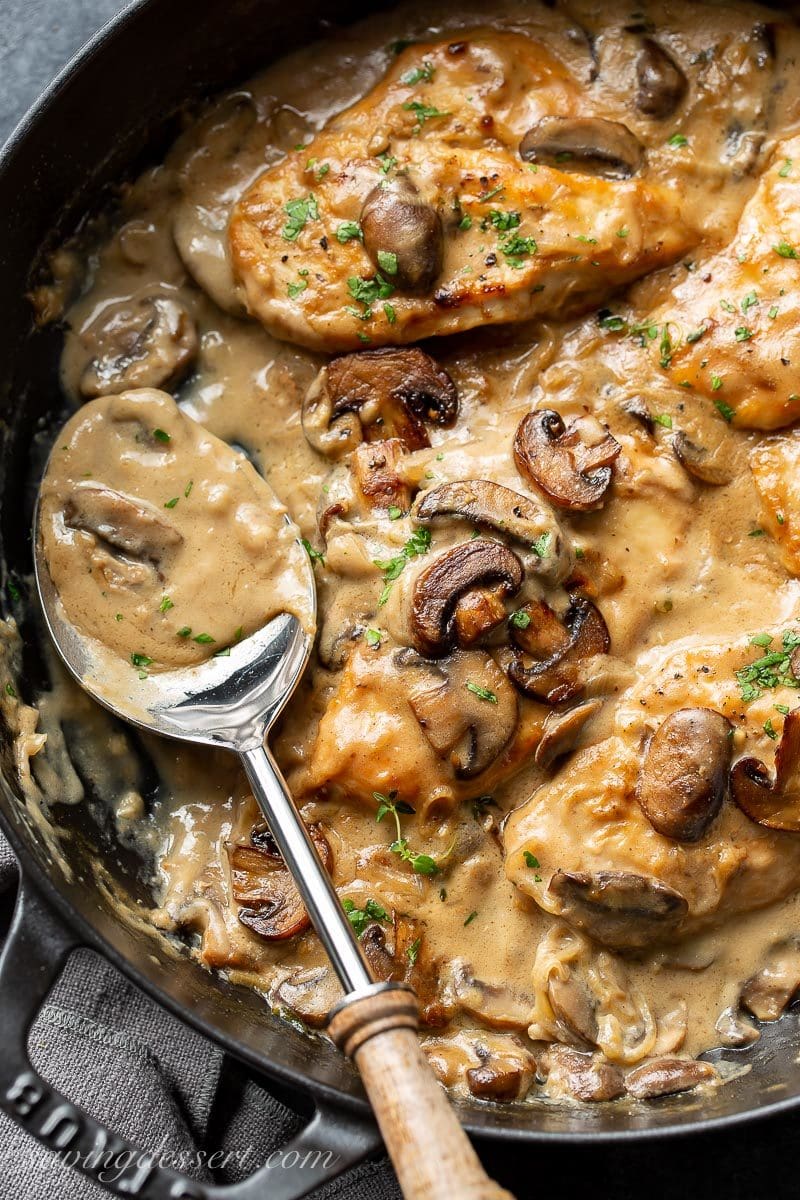 Ingredients needed to make Skillet Chicken with Mushroom Wine Sauce:
boneless, skinless chicken breasts – for this recipe you'll need 3 large breasts, or 6 chicken cutlets. You can also use chicken tenders, or boneless skinless chicken thighs
all-purpose flour – for dredging the chicken
salt
pepper
garlic powder
mushrooms – any small variety of mushrooms will do
unsalted butter
olive oil
garlic
shallots
chicken broth – we prefer low-sodium to ensure the recipe is not too salty
dry white wine
heavy cream
fresh thyme
Dijon mustard
cornstarch – for thickening the gravy
You probably have most everything needed on hand already. I hope you'll give this recipe a try!
If you're lucky enjoy to have leftovers, reheat gently in the microwave for another delicious meal.
Thanks for PINNING!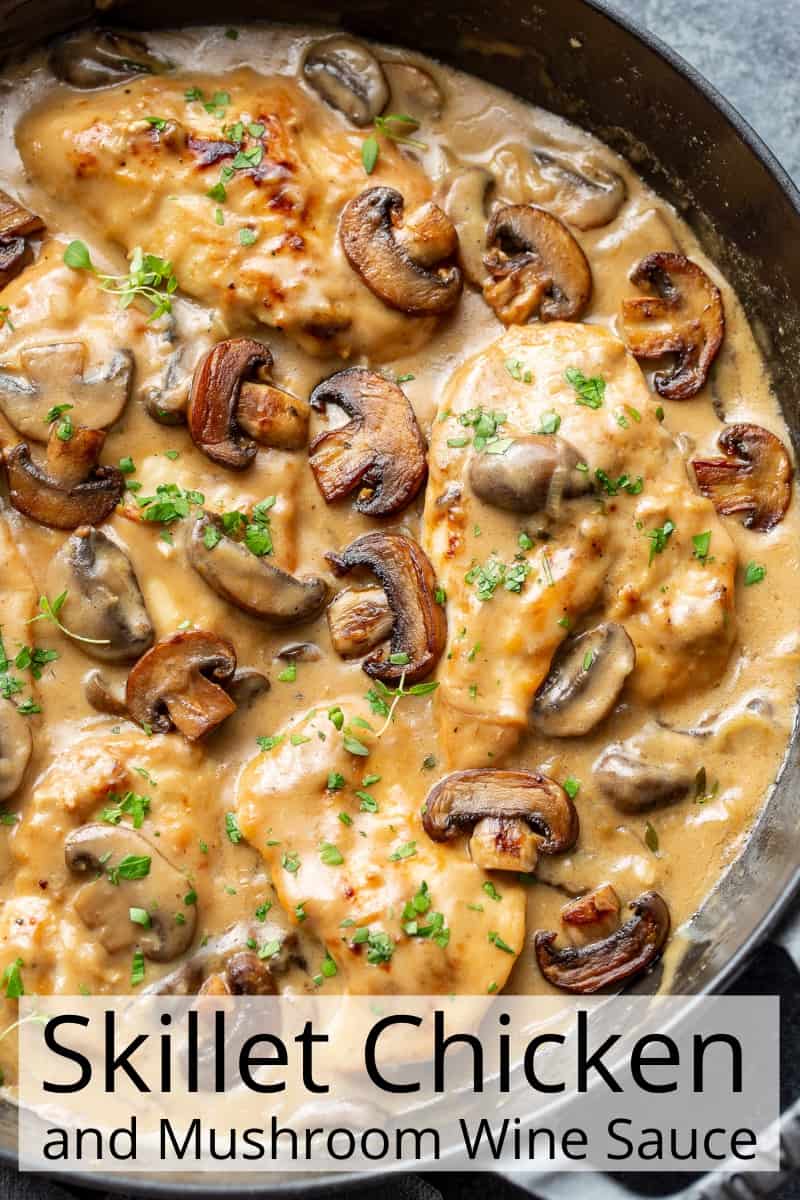 Let's be cooking friends! If you make our recipe please feel free to leave a comment on this post. I'm sure your experience and insights will help all our readers, and it helps me too. If you're on Pinterest feel free to leave a comment and photo there if you have one!