This Giant Reese's Peanut Butter Cup Pie is a 9-inch in diameter, supersized, no-bake, easy-to-make dessert that combines peanut butter with crushed graham crackers, powdered sugar, and butter to match the filling consistency of the classic candy.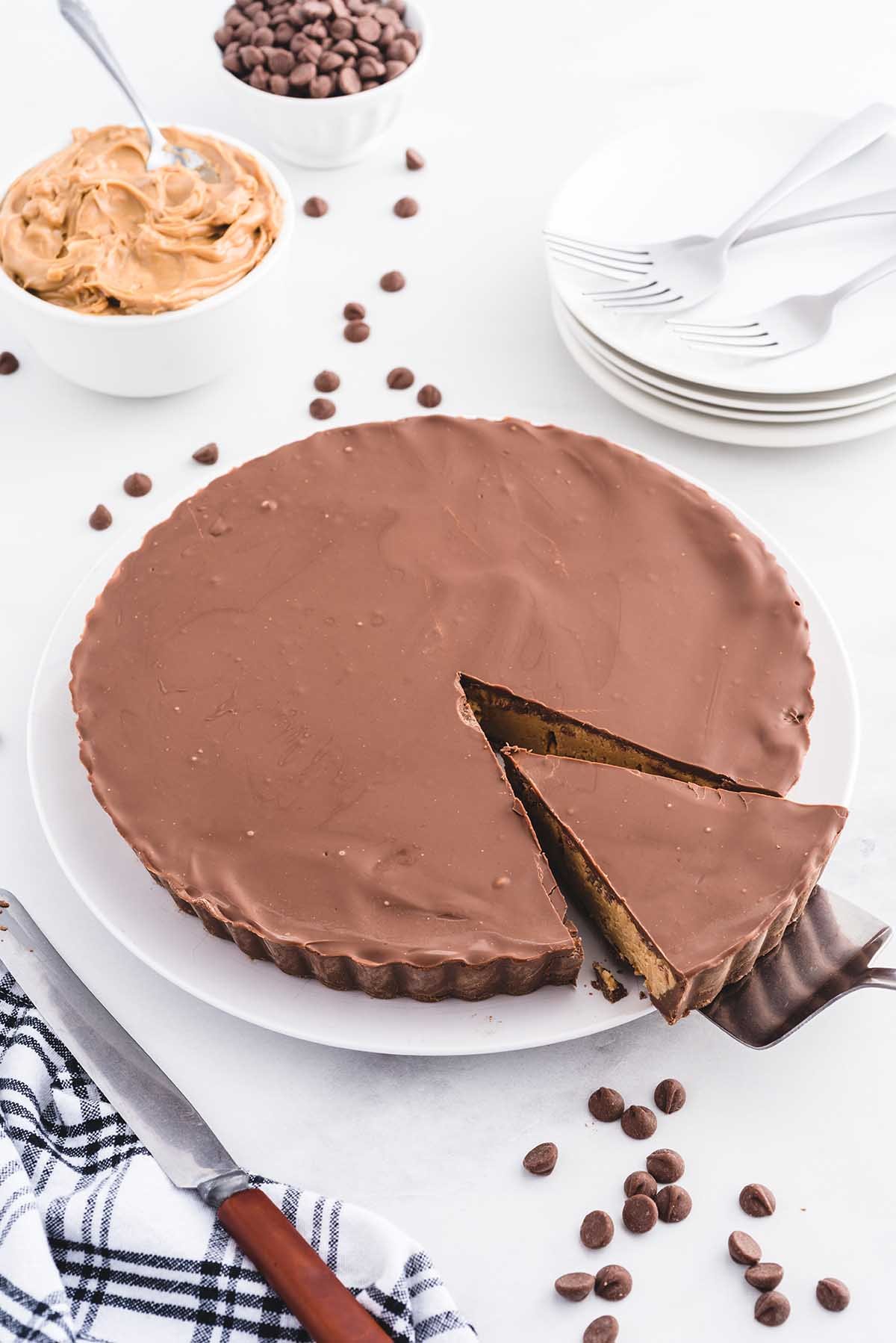 NO-BAKE GIANT REESE'S PEANUT BUTTER CUP PIE
This Giant Reese's Peanut Butter Cup Pie recipe is the most decadent, delicious, no-bake dessert that's so easy to make using only 6 basic ingredients; it not only tastes like the classic Reese's peanut butter cup, but it's even better because it's bigger–it's simply a super-sized version of my favorite food combination, chocolate and peanut butter.
So when Hershey's revealed its 9-inch, 3.4 pound Reese's Thanksgiving Pie, I knew I NEEDED to make my own copycat recipe for those of us who missed out on the 3,000 for sale or weren't willing to spend $45 on a giant candy cup (and mine costs a fraction of the online price).
Unlike the other renditions of the oversized peanut butter cup recipe, I think the filling of my pie more closely resembles that of the real Reese's because I mix graham cracker crumbs into my filling mixture; this way it replicates the grainy texture and taste of the original candy.
My second secret is that I melt the chocolate with a bit of vegetable oil when making the outer shell so that the pie is softer and won't crack when slicing, and it spreads smoothly and easily into the tart pan (you will love how the tart pan creates the classic Reese's ridges).
This giant peanut butter cup recipe proves there is no such thing as too much of a good thing. For more no-bake peanut butter recipes you never knew you needed, try my Reese's Pieces Peanut Butter Ball, No-Bake Peanut Butter Pie, and Easy Peanut Butter Fudge the next time you need to feed a crowd.
WHY WE LOVE THIS REESE'S PEANUT BUTTER CUP PIE RECIPE
Quick and easy to prepare using simple ingredients.
No-bake recipe that makes it simple to replicate the popular peanut butter and chocolate confection.
Copycat version of Reese's Thanksgiving Pie that is big enough to feed a crowd, and day or holiday.
Decadent sweet chocolate paired with the salty, nutty flavor of peanut butter is delicious!
Oversized version of the classic candy is fun to serve as a slice.
Perfect treat to make in place of a birthday cake or large dessert.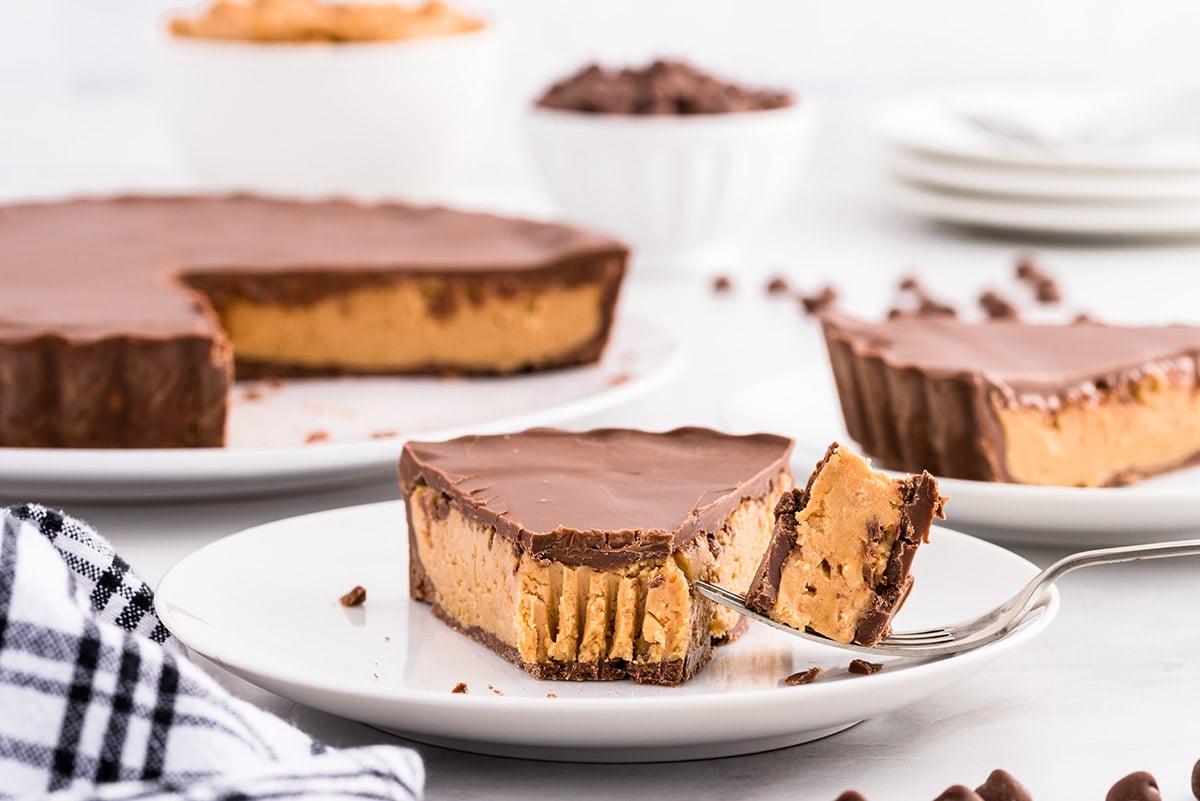 INGREDIENTS
2½ cups milk chocolate chips
1½ tbsp vegetable oil
1⅓ cup powdered sugar
1 cup graham cracker crumbs
1¼ cup crunchy peanut butter
½ cup salted sweet cream butter
SUBSTITUTIONS AND ADDITIONS
Change The Chocolate: This giant Reese's Peanut Butter Cup would be equally delicious with semi-sweet or dark chocolate.
Make Them Mini: Instead of making one super-sized pie, you can create individual candies in muffin pans. Feel free to make them as big or small as you want.
Fun Fillings: For extra texture and flavor, you can add mini Reese's pieces, mini chocolate chips, or crushed pieces of peanut brittle to your filling.
RECOMMENDED TOOLS TO MAKE THIS RECIPE
Parchment paper
Nonstick spray
Mixing bowls
Measuring tools
Large spoon
Silicone spatula or an offset spatula
SEE FULL PRINTABLE RECIPE CARD BELOW
HOW TO MAKE A GIANT REESE'S PEANUT BUTTER CUP PIE
If you missed out on Hershey's huge Reese's Thanksgiving Pie, you can easily make your own version with the same classic combination of peanut butter and chocolate. This no-bake recipe is so simple and tastes just like the real recipe, you won't even remember that your pie didn't come from a package!
Heat the chocolate chips and vegetable oil in the microwave for 45 – 55 seconds and stir until the chocolate chips are completely melted and smooth.


Spoon ½ of the melted chocolate into the parchment-lined tart pan and evenly spread it over the bottom of the pan and up the sides.
Pro Tip: I find it easiest to spread the chocolate with a large spoon or offset spatula. If you do not have a parchment circle, you can generously spray the removable circle with nonstick spray, or you can lightly butter the removable circle.


Place the coated tart pan in the refrigerator to chill while you prepare the peanut butter filling.
Whisk together the powdered sugar and graham cracker crumbs and set it aside.
Add the peanut butter and the butter to a separate bowl, heat in the microwave for 45 seconds, and stir to completely combine.


Pour the peanut butter mixture over the powdered sugar and graham cracker crumbs and stir until the mixture is completely incorporated.


Once the chocolate coating is chilled and set, spread the peanut butter mixture into the bottom of the tart pan, making sure the mixture is smooth and even.


Spoon the remaining melted chocolate over the peanut butter layer with a spoon or an offset spatula to evenly smooth it all the way to the sides.
Pro-Tip: Once you have spread the peanut butter mixture into the prepared tart pan, you may need to heat the chocolate mixture in the microwave for 15 – 20 seconds before spreading.


Gently tap the tart pan to ensure the chocolate settles and chill in the refrigerator for 4 hours to overnight.
Pro Tip: Leave the the tart pan in the refrigerator until you are ready to serve.


Remove the peanut butter cup from the tart pan by applying slight pressure to the edge to encourage the sides to come away.
Pro-Tip: When you remove the pie from the tart pan, you will most likely find some perfect imperfections around the edges. If they bother you, simply swipe a sharp knife to get rid of anything sticking out.
Gently flip the pie upside down to remove the removable tart pan bottom and carefully peal off the parchment circle.


Place a serving plate or cake circle over the bottom of the pie and flip the pie back over.


Place the pie on a platter or 10 inch cake circle, slice into wedges and serve.
Pro-Tip: Before slicing, allow the pie to sit at room temperature for 20 minutes. I find it easiest to cut the pie with a warm, dry knife so it'll slice through the thick chocolate.
Enjoy!
STORAGE TIPS
To Store: Store any leftovers in an airtight container for up to 7 days.
To Freeze: To freeze, wrap the pie in a layer of plastic wrap, then overwrap it in tin foil, and freeze it for up to 3 months. When you are ready to serve it, thaw it overnight in the refrigerator.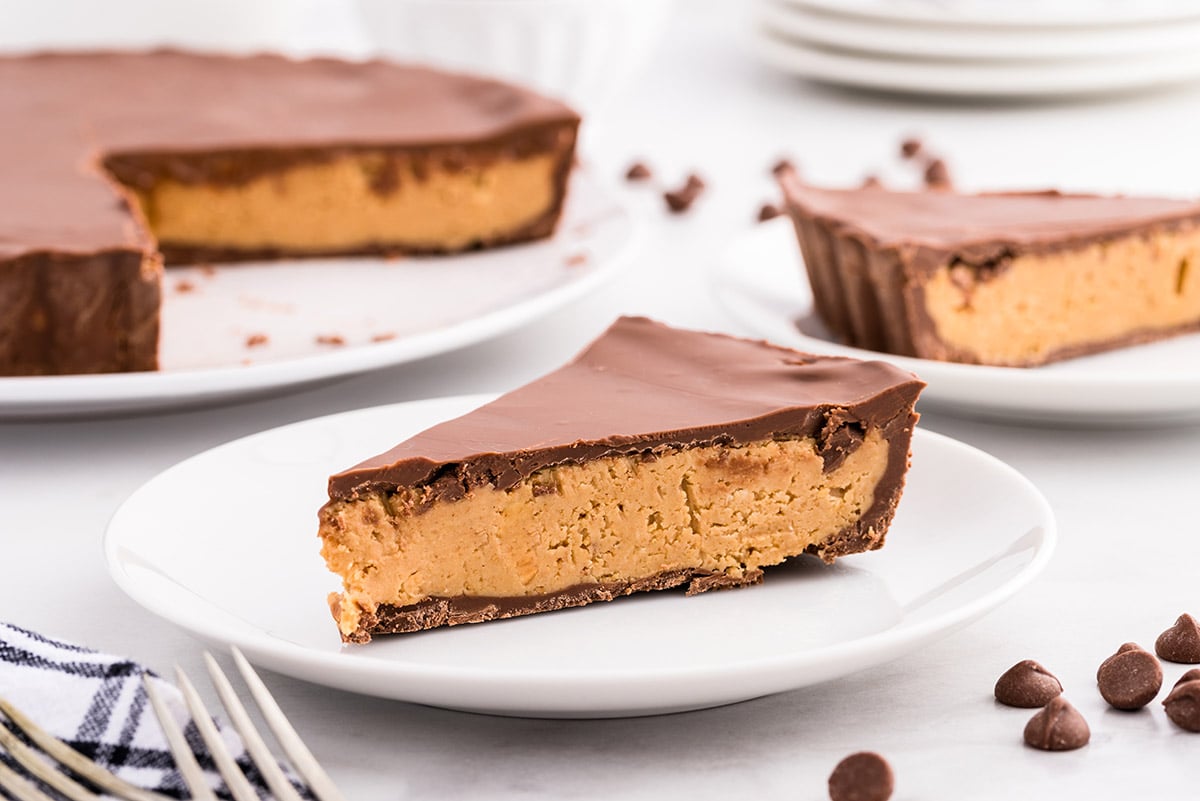 FREQUENTLY ASKED QUESTIONS
Is it best to use creamy or crunchy peanut butter for this recipe?
I made this recipe using crunchy peanut butter, but this is a personal preference, depending on which you like the best. Smooth peanut butter is traditional, but Reese's also has a crunchy version.
Can I use other nut butters for this peanut butter cup pie recipe?
You can absolutely swap out the peanut butter for any of your favorite nut butters. You can try almond butter, cashew butter, hazelnut butter, or any other nut butter of your choice.
What type of chocolate is best for this recipe?
Feel free to use creamy milk chocolate (like I use), dark chocolate, semi-sweet chocolate, or you could even try making these with white chocolate. If you are using "almond bark" instead of chocolate chips, there is no need to thin the chocolate with vegetable oil.
What was the size of the Reese's Thanksgiving Pie?
Reese's released its largest peanut butter cup ever in November 2021: a nine-inch Reese's Thanksgiving Pie. The super-sized peanut butter cup was the size of an actual pie, with a 9-inch diameter and weighed 3.4 pounds. An actual Reese's Cup only weighs 1.5 ounces for comparison!