This lemon chicken sheet pan dinner is a healthy chicken recipe featuring juicy chicken with lots of bright lemon flavor. The addition of tender potatoes and zucchini make the sheet pan chicken a complete meal. And because it's a one-pan dinner, clean-up is super easy.
This easy lemon chicken recipe makes a delicious and easy weeknight dinner, yet it's impressive enough to serve to guests.
Baking a complete meal together on one pan saves so much time, especially with the clean-up.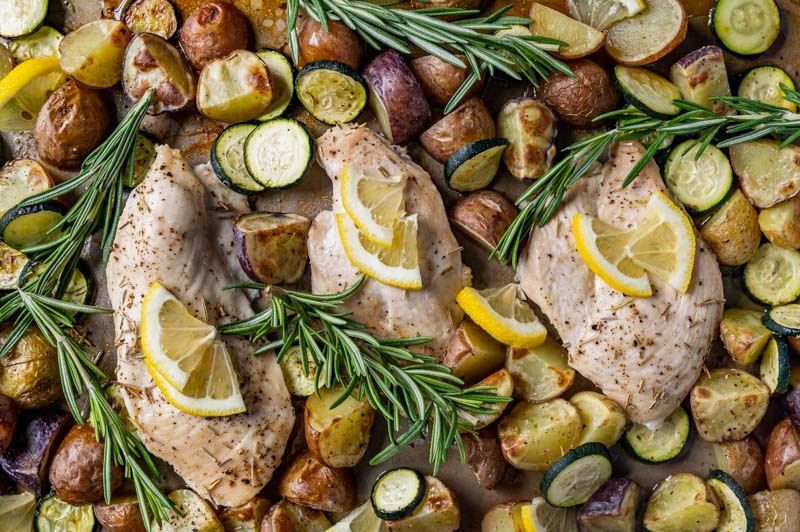 Who created sheet pan dinners?
We aren't sure who first came up with sheet pan dinner ideas, but we love that they did! Sheet pan meals are easy to make and aren't limited to main dishes, either; you can make sheet pan appetizers, too.
We've seen sheet pan supper ideas for meals like pork chops, baked chicken thighs, and even meatloaf! Sheet pan appetizers like loaded nachos are great for parties and for serving a crowd. You can even serve them directly from the sheet pan!
NEED A LARGE SHEET PAN?
Need a large sheet pan? We have this one and love it. It comes with the wire rack so your sheet pan dinner doesn't get too soggy.
Is lemon chicken healthy?
Yes, this lemon chicken sheet pan dinner is very healthy!
In general, baked chicken is much healthier than fried or pan-seared chicken. This recipe uses chicken quarters, which have dark and white meat pieces. To make the lemon chicken sheet pan dinner healthier, you can make it using just chicken breasts.
Another idea for a healthy ingredient swap is to use sweet potatoes instead of russets. Sweet potatoes are a little lower in carbs and calories, and higher in vitamins A and C.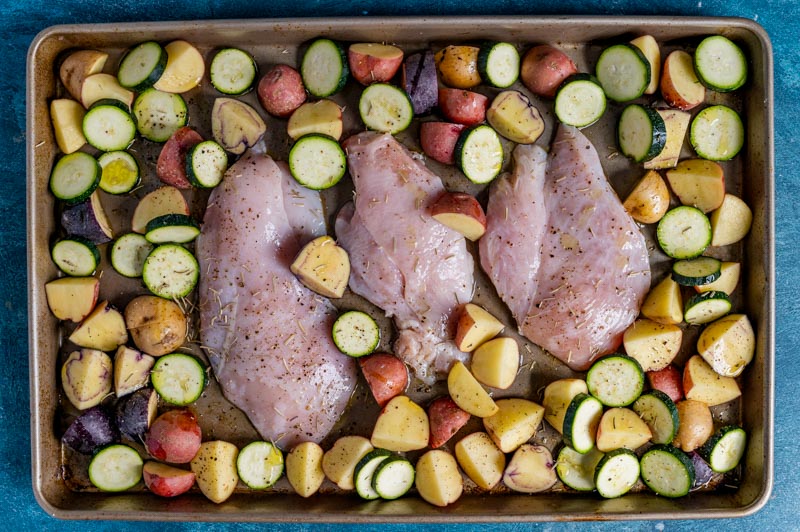 How to Make Sheet Pan Chicken
Prepare. Preheat oven to 400º Fahrenheit. Drizzle a baking pan (with 1″ sides) with about 1 tablespoon olive oil. Brush over the pan to grease the entire bottom.
Cut. Thick chicken breasts will take a long time to bake, so slice the chicken breasts in half so that they are thinner. We had 2 large chicken breasts and cut them into 4 thinner half slices. Place the chicken breast on the baking sheet with about 2″ between each piece.
Arrange. Arrange the bite size potatoes and zucchini pieces around the chicken on the pan in a single layer. Squeeze the juice of one lemon over the chicken. Crush 1 teaspoon of dried rosemary over the whole pan, chicken and vegetables. Sprinkle with salt and pepper. Drizzle the remaining 2 tablespoons of olive oil over the entire pan of potatoes and chicken.
Bake. Bake for 15 minutes, then test the potatoes and chicken. Potatoes should be getting soft. Test the temperature of the chicken. The chicken is done when the center is 165ºF. At this point, if it is almost done, turn the oven broiler on high for 3-5 minutes. Watch closely and turn the broiler temp down if needed. Food can burn quickly on broil. Broiling will help the chicken and potatoes brown slightly on top. Total baking time will be between 20-30 minutes, depending on the size of chicken and potato pieces.
To make the sheet pan dinner pretty for serving, top with fresh rosemary, lemon wedges and lemon zest.
Vegetable Options
Not a fan of zucchini or potatoes? No worries! You can swap them out for vegetables like carrots, asparagus, or Brussels sprouts. Really, as long as the veggie is one that roasts well in an oven, you can use it on your lemon chicken sheet pan dinner.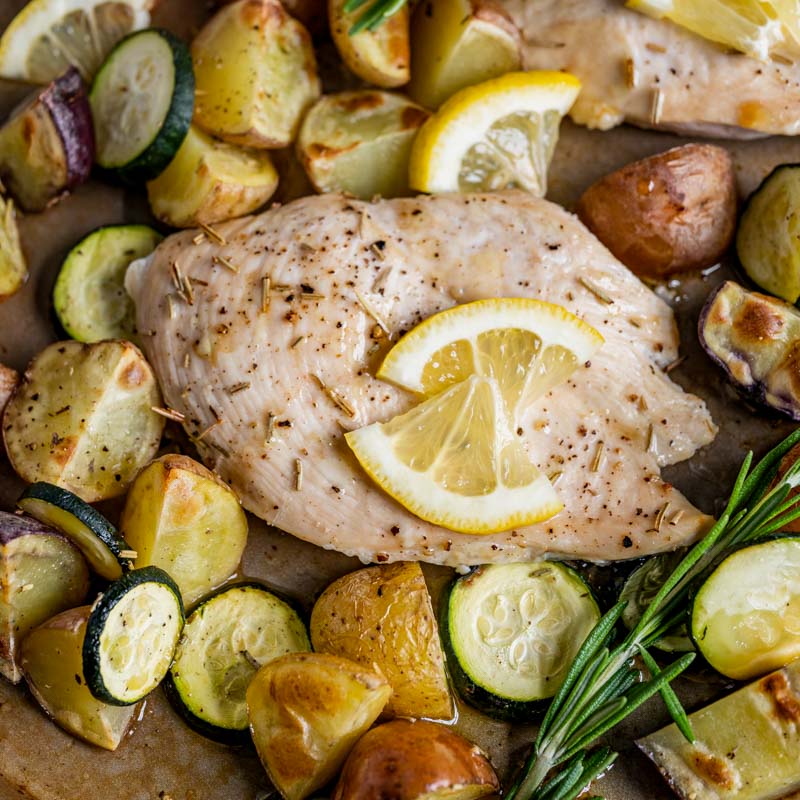 Other Chicken Cuts
You can use any cut of chicken that you'd like, including bone-in chicken thighs, drumsticks or even chicken tenders. You'll have to watch the baking time closely so you don't overcook the chicken. Remember to always cook chicken to 165ºF internal temperature.
Serving Suggestions
The awesome thing about sheet pan dinners is that it's a one-stop meal. Everything is on the pan! If you'd like, you could serve a garden salad, green beans, fruit salad and some homemade rolls with this chicken dinner.