KFC Coleslaw Copycat – make your restaurant favorite right in your kitchen! Perfect for the summer BBQ's and potlucks! This recipe is spot on!
We have our restaurant favorites, like my Cheddar Bay Biscuits. It's always fun to make them at home from scratch! We serve the coleslaw with Slow Cooker Baked Beans and Air Fryer Fried Chicken.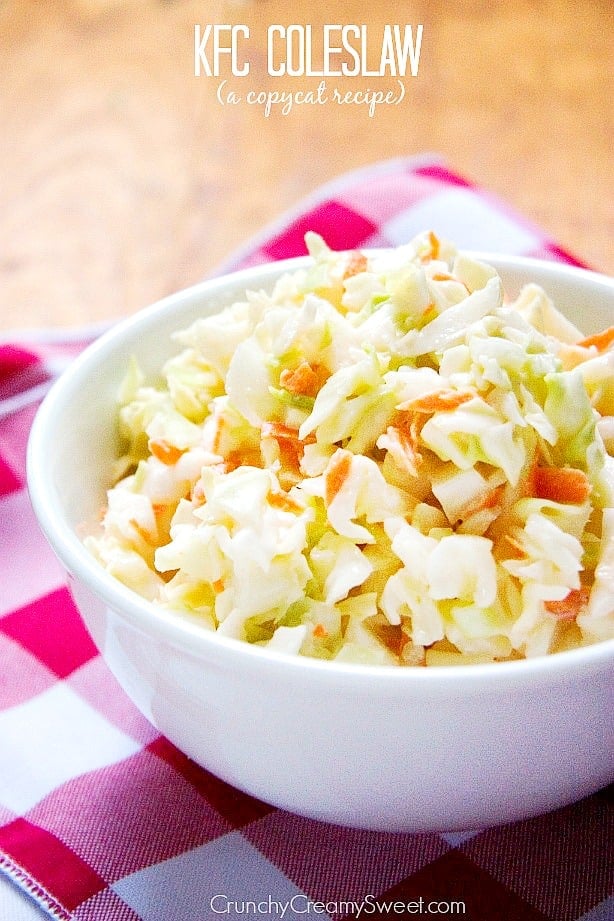 KFC COLESLAW COPYCAT
Last weekend, we kicked off the summer with our annual BBQ Bash! There were ribs on the grill, corn on the cob and coleslaw in the bowls. There were s'mores and sticky fingers and lots of fun and laughter! We live in Kansas and as true mid-westerners, we love our BBQ. My Hubby takes pride in his ribs (baby back, beef, short ribs – any kind) and has his technique down to perfection. I take care of the sides and dessert. This KFC Coleslaw Copycat is simply perfect. The taste is spot on! Don't forget the two secret ingredients to make it just like (or even better) the restaurant kind!
HOW TO MAKE KFC COLESLAW COPYCAT
Shredd cabbage, dice onion and carrots.
In a medium mixing bowl, whisk together the dressing ingredients. Pour over the veggies and stir all with a wooden spoon.
Cover the bowl with a saran wrap and place in the fridge for at least 4 hours, preferably overnight. Stir again before serving.
What is KFC Coleslaw made of?
To make the coleslaw you will need:
cabbage
carrots
onions
mayonnaise
milk
buttermilk
apple cider vinegar
lemon juice
sugar
salt and pepper
Does it taste like the restaurant coleslaw?
Yes! It is spot on. We had our own KFC coleslaw made from scratch in our own kitchen and to go with our perfect BBQ ribs! One fantastic meal! You have to try this KFC Coleslaw Copycat recipe!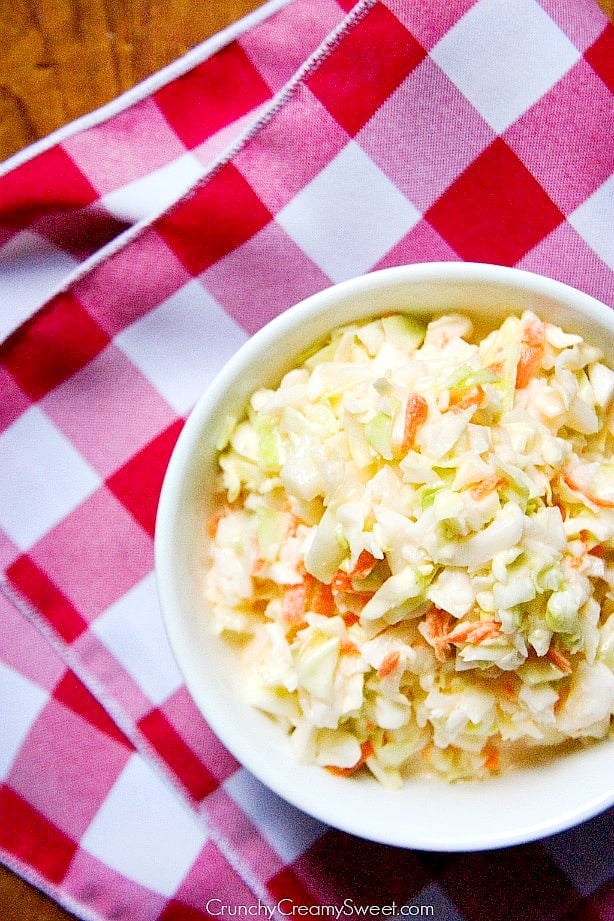 The secret to KFC Coleslaw recipe:
I did a little bit of research and in no time I was whipping up the famous KFC copycat in my own kitchen. The hardest part was waiting for the whole thing to mingle flavors while chilling in the fridge. My own coleslaw lacked in flavor. It turned out that sugar and onion were the secret ingredients! It gave the coleslaw the characteristic flavor.
How long does it last?
You can keep the coleslaw in a container with lid, in the fridge for up to 5 days. Always stir before serving.