Instant Pot steak fajitas that are so tender, juicy, and filled with incredible flavors!
Cooked till perfection in the Instant Pot so quickly, the meat turns out so delicious. And my favorite thing about this recipe? It's a one-pot recipe, where you just throw everything in your IP and come back in just 20 minutes or so to enjoy the fajitas!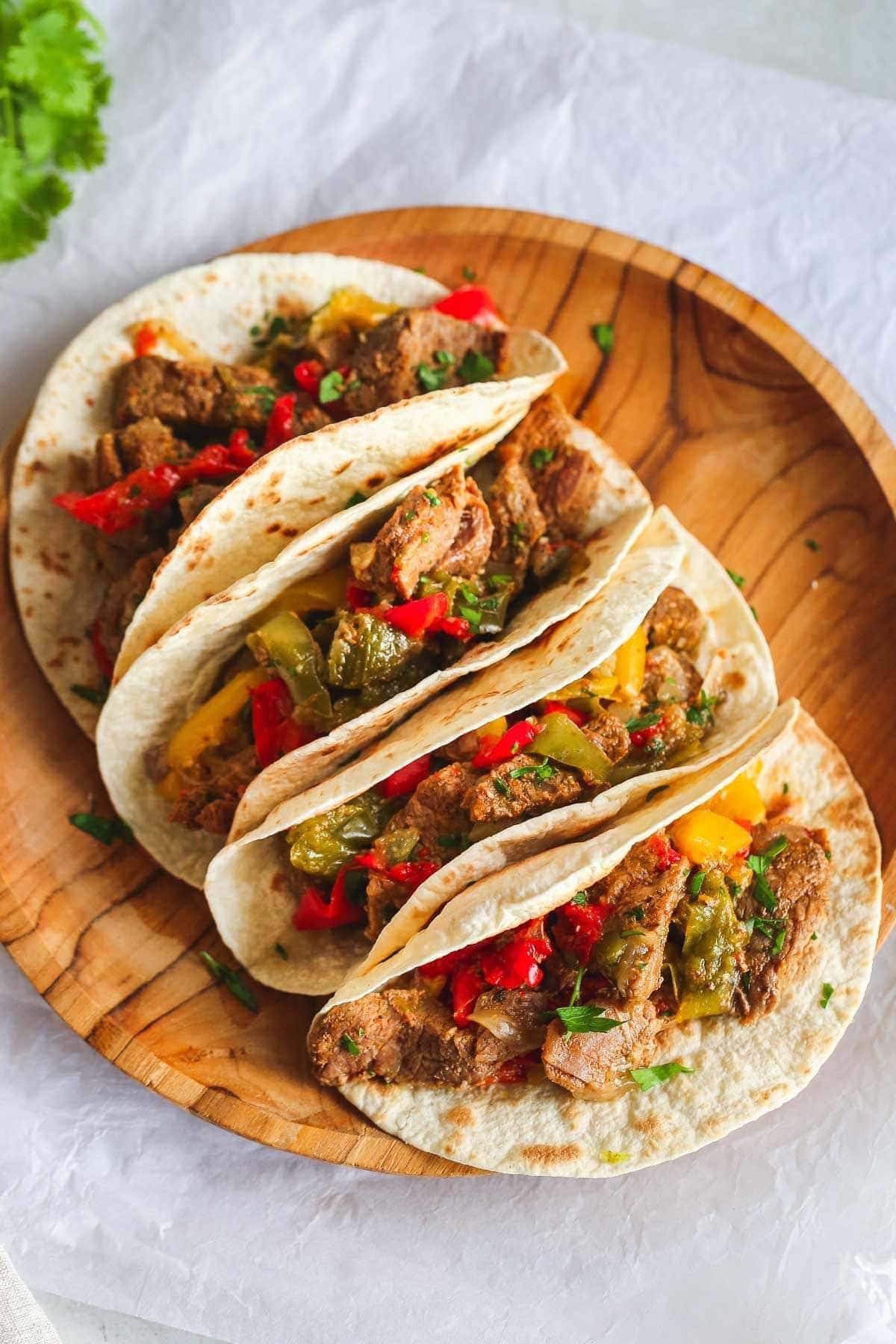 So a couple of months ago I shared my Instant Pot Chicken Fajitas recipe on the blog, and so many of you LOVED it and asked me about making steak fajitas in the Instant Pot. So I figured that I need to share this recipe with you as well.
Instant Pot Steak Fajitas
IP steak fajitas couldn't be any easier! This recipe is perfect for a quick throw-together meal, it's so delicious and so easy to make that you'll find yourself making it over and over again!
The recipe requires very simple ingredients and does not require any expert cooking skills.
Fajita Seasoning
I almost never buy store-bought fajita spice mix, as it's so easy to make, tastes much better when made at home and that also saves me a lot of money!
To find out how to make your own fajita seasoning, check out my homemade fajita seasoning recipe. The same spice mix can also be used for tacos, roasting vegetables, and other chicken recipes, so you can make yourself a jar and keep it in your cupboard for when you need it.
Things You'll Need To Make The Instant Pot Steak Fajitas
You need an Instant Pot. I have this Instant Pot and love it so much! I use it almost every day.
Kitchen tongs, for recipes like this I prefer stainless steel locking tongs.
I love these stainless steel measuring cups and use them every time I cook, as well as those measuring spoons.
A slotted spoon to take out the fajitas at the end to serve.
Corn or flour tortilla bread, I use this brand.
Fajita spice mix, either make your own or get a ready fajita spice mix (I like this Smoky BBQ mix).
Steak – sliced, I use inexpensive cuts.
Bell peppers – red, yellow, and green (thickly sliced).
Onions – yellow or red.
Beef broth, vegetable stock, or water.
Salt (if necessary).
Which Steak Is Best For Fajitas?
The best cuts to make fajitas are flank, top round, or rump.
How To Make Steak Fajitas In The Instant Pot
Start by adding the meat, and the onion to the Instant Pot. You can either add the bell peppers at this point or add them after pressure cooking. This depends on if you're ok with soft peppers, or prefer them crunchy.
Add the spices and 1/2 cup of liquid (beef broth, vegetable stock or water, whichever is available).
Give everything a quick mix, cover with the lid. Set the valve to the "sealing" position.
Cook on high pressure for 10 minutes. Allow the Instant Pot come to pressure, then let it cook for 10 minutes. When it's finished, it will beep. Click on "cancel" and do a quick release by switching the valve to the "venting" position.
Remove the lid, and either drain the extra liquid (and retain some) or use a slotted spoon to take out the fajitas. If you chose not to add the bell peppers before pressure cooking, then add them as soon as you remove the lid and let them sit there for a couple of minutes to "Steam".
Serve the fajitas stuffed in tortilla wraps, garnish with chopped cilantro and enjoy!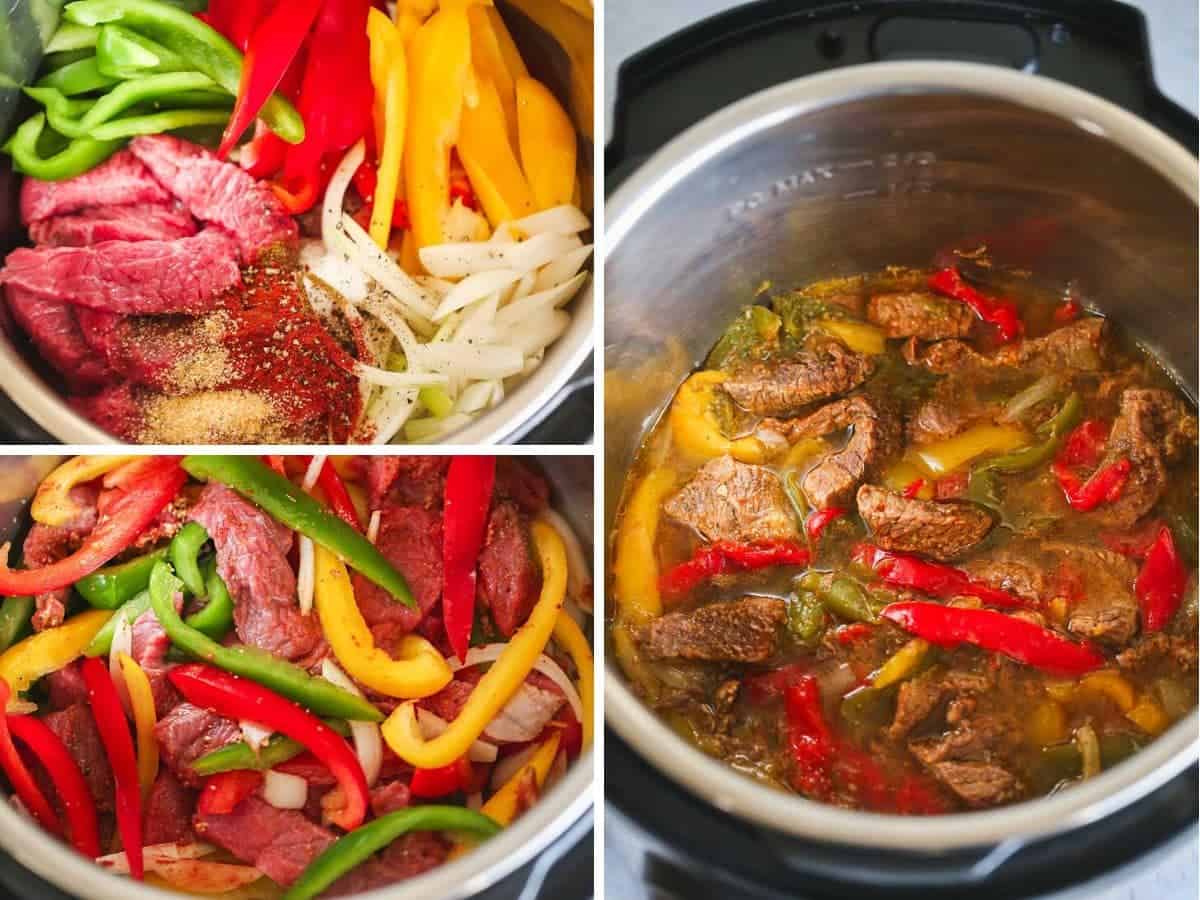 As for toppings, below I listed my favorites:
Guacamole, pico de gallo, lime crema, cheese, salsa, hot peppers, and fresh cilantro or parsley.
Oh and don't forget to make an EASY Agua Fresca juice to enjoy with the fajitas!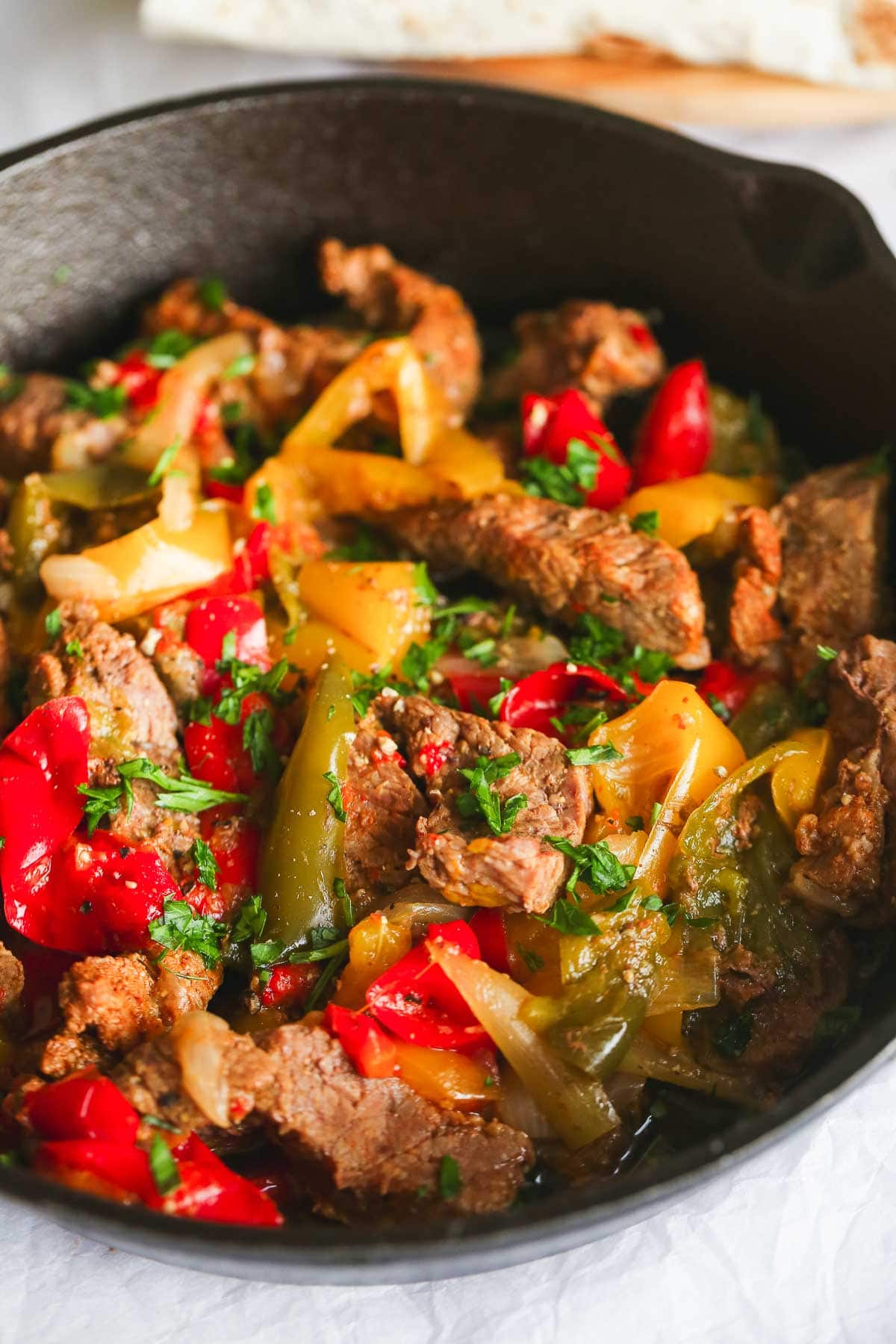 I Made These Fajitas And Got A Bit Too Much Liquid, Is That Normal?
That's totally normal! For the Instant Pot to come to pressure, you need a little bit of liquid and the minimum recommended amount of liquid by the Instant Pot is 1/2 cup so that's what we're using in this recipe. Also, keep in mind that you'll get more juices from the meat and veggies, so you'll end up with a bit of liquid.
Simply drain the liquid after the IP is done the cooking (and retain some if you like), or just use a slotted spoon to take out the fajitas.
Why You'll Love Instant Pot Fajitas
The beef turns out so juicy, tender and full of flavor!
Making fajitas in the IP is much easier as I can just set the IP to cook and go do something else until it's done. I don't have to watch it!
It's a one-pot recipe! No mess, no washing up! All I will have to wash is the IP pot.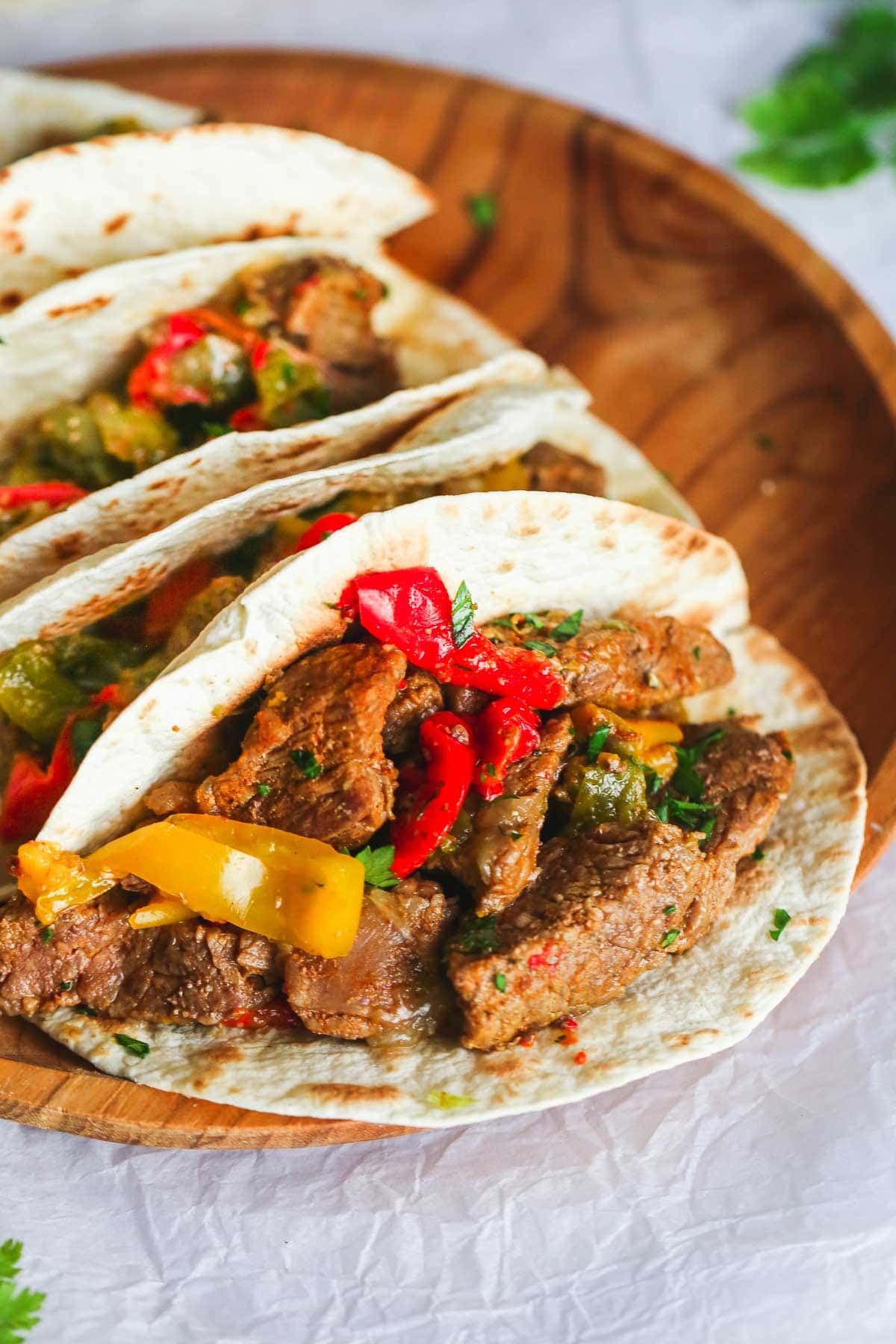 Using Frozen Beef
You could also cook this recipe using frozen beef, the instructions will remain the same just set the cooking time to 12 minutes instead of 10.
Can I Make These Fajitas Over The Stovetop?
Absolutely! In a bowl, toss the beef strips and the spices until the meat is well coated.
Heat 1 tbsp of vegetable oil in a skillet over high heat, then add the vegetables and cook for 6-7 minutes or until soft. Remove from skillet.
Add the beef slices into the skillet, and cook until it's cooked through (about 4-5 minutes). Add the vegetables back into the skillet and cook for one more minute. Serve in warmed tortillas.