Heaven On Earth Cake is a delicious trifle-style dessert made with luscious layers of moist angel food cake, tart cherry pie filling, creamy pudding, and whipped cream with a sprinkle of sliced almonds on top. This no-bake refrigerator cake means no oven required–it's easily assembled with 7 simple ingredients, then chilled and served cold.
NO-BAKE, EASY-TO-MAKE HEAVEN ON EARTH CAKE
Some call a Heaven On Earth Cake a trifle, others an icebox or refrigerator cake, but I call it the best bite of a no-bake cake and a delicious dessert that is divinely decadent!
This recipe is so easy to make by layering lighter-than-air angel food cake cubes with vanilla pudding and cherry pie filling, spreading some whipped cream on top, drizzling it with more pie filling for a pretty pop of color, and then sprinkling it with slivered almonds. This cool, creamy treat features my favorite elements of cherry pie, cake, and pudding in every sweet spoonful.
While this Heaven On Earth Cake comes together quickly, it does need time to chill. But trust me when I tell you that as it rests in the fridge, the light and airy angel cake pieces absorb the flavors of the vanilla pudding and cherry filling so it's completely worth the wait! Plus, it's so easy to customize this recipe by using your favorite flavor combinations to make it your own perfect trifle of tastes and textures and create a cake that is out of this world!
If you love the look of a layered dessert, you must try my S'mores Trifle and my Chocolate Trifle!
Recipe inspired by Spaceships and Laserbeams!
WHY WE LOVE THIS HEAVEN ON EARTH CAKE RECIPE
Quick and easy to assemble the layers.
Uses simple ingredients to create a no-bake cake.
Delicious dessert that tastes like Heaven on Earth!
Light, cool, and creamy combination of tastes and textures.
Perfect sweet treat for Valentine's Day, potlucks, parties, or family get-togethers.
INGREDIENTS
Instant vanilla pudding mix
Half and half: You can use whole milk instead.
Honey vanilla Greek yogurt: I love the taste of this yogurt, but you can substitute it for plain Greek yogurt, vanilla Greek yogurt, or sour cream for a different flavor.
Premade angel food cake: Other homemade or box cake mixes can also be used for this cake instead. However, make sure that you let the cake cool completely before adding it as an ingredient for this recipe.
Cherry pie filling: Feel free to use another filling for this cake instead.
Whipped topping: You can make your own whipped cream by beating together heavy cream and powdered sugar in a cold bowl until you have stiff peaks.
Sliced almonds: You can also try this with some other crushed nuts like walnuts, pecans, or pistachios.
SUBSTITUTIONS AND ADDITIONS
Filling Flavors: Instead of cherry pie filling, feel free to try strawberry, raspberry, blueberry, or lemon pie filling. Or, how about apple pie filling in the fall?
Pick Your Pudding: While I am partial to vanilla pudding, feel free to switch this out for white chocolate pudding mix, banana cream, cheesecake, Oreo, coconut cream, or any other flavor that you want to try.
Add Alcohol: If you are serving this cake to adults, you can soak the cake cubes in sherry or wine first for a grown-up version of this cake.
Customize Your Cake: The recipe calls for angel food cake, but feel free to swap it with pound cake, chocolate cake, vanilla sponge cake, brownies, or sponge fingers for variety.
RECOMMENDED TOOLS
9×13 inch baking dish or cake pan
Mixing bowl and tools
Spatula
Knife and cutting board
Measuring tools
SEE FULL PRINTABLE RECIPE CARD BELOW
HOW TO MAKE HEAVEN ON EARTH CAKE
This Heaven On Earth Cake is so quick and easy to make simply by assembling layers of basic ingredients–no baking required! Part cherry pie, part cake, part pudding, and wholly decadently delicious!
Combine the vanilla pudding mix, half and half, and Greek yogurt and set aside for at least 5 minutes to thicken.


Cut the store bought angel food cake into 1 inch cubes.
Layer half of the cubed angel food cake on the bottom of a 9×13 inch baking dish.
Pour ½ of the pudding mix over the cake layer.
Add ⅔ of the cherry pie filling over the pudding layer.


Add a layer of the remaining cake cubes atop the cherry pie filling.
Top with the remaining vanilla pudding.
Spread the whipped topping over the pudding in an even top layer.


Drizzle the remaining cherry pie filling over the top of the cake on the whipped topping layer.
Sprinkle with sliced almonds.


Refrigerate for at least 2 hours or until set, plate, and serve cold.
Enjoy!
TIPS
This cake is essentially a trifle, so feel free to put it into a trifle jar to showcase the layers of the cake, filling, and pudding. Or, try putting it into mason jars for easy access and individual servings.
The ingredients need time to soak into the angel food cake, so make this cake with plenty of time before it is served.
It's easiest to use a large serving spoon when dishing out portions of this to your guests or family. No knife is necessary.
It is easy to customize this recipe by using a different flavor of pudding mix and/or a different pie filling flavor. Feel free to use your favorite flavor combinations!
STORAGE TIPS
To Store: Store this cake, covered, in the refrigerator for 2-3 days.
To Freeze: This cake doesn't freeze well, but if you need to freeze it, you can store it for about 2 months. Make sure you wrap it well and thaw it in the refrigerator before serving.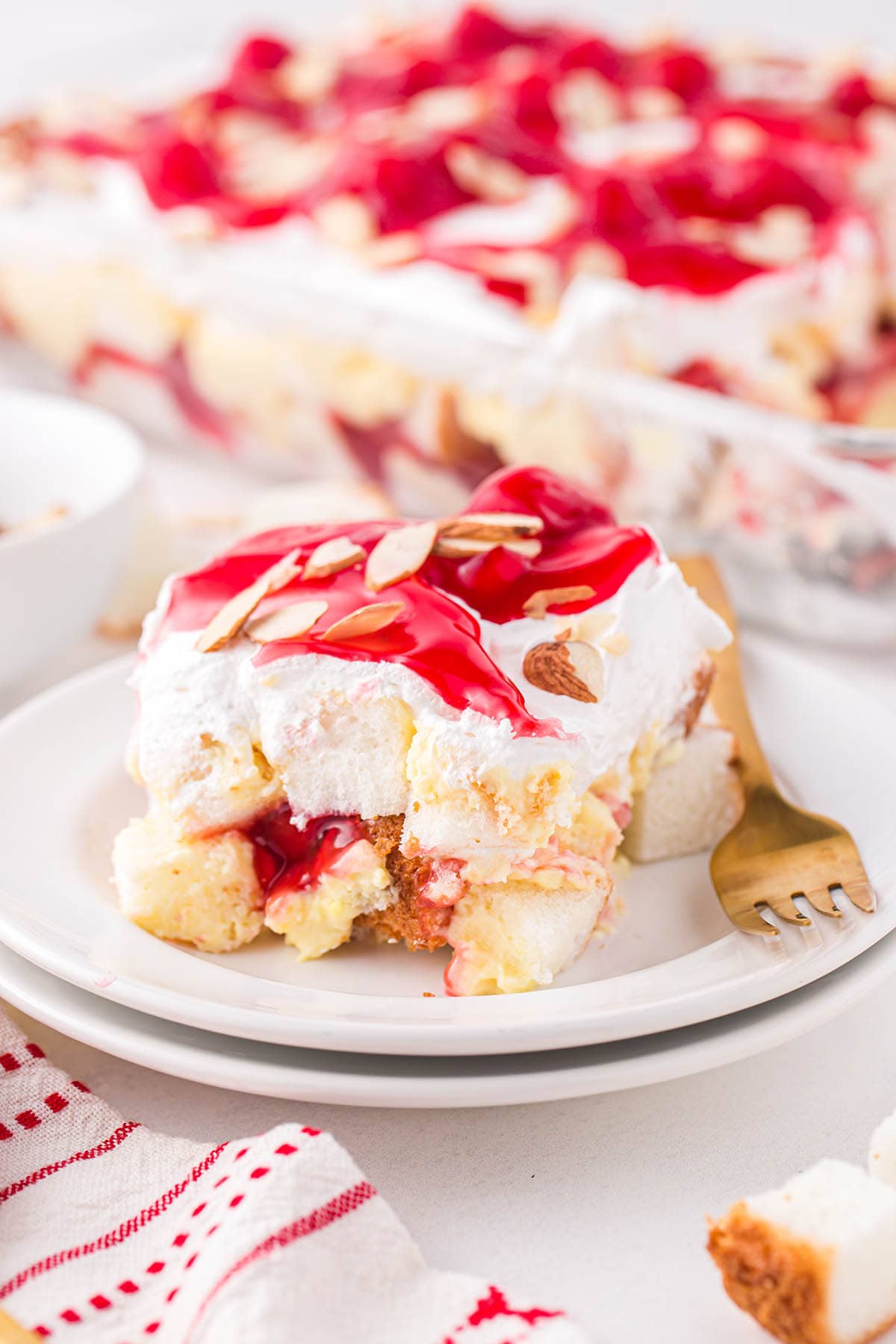 FREQUENTLY ASKED QUESTIONS
Can I bake my own cake instead of using a premade one?
You can absolutely use a homemade cake or boxed cake mix for this recipe. If you are baking the cake yourself, make sure to let it cool fully before cutting it so that it doesn't make the other ingredients too warm.
Can I make this Heaven On Earth Cake in advance?
Yes, you can make this cake in advance. In fact, I like this cake best when it has had ample time to chill in the fridge. You can make it the night before and let it set in the refrigerator overnight.

What is the best knife to cut the cake into cubes?
It's easiest to cut your cake using a knife with a serrated blade, and you won't lose the airy, fluffy texture of the cake.
How do I serve this cake?
You won't need a knife to serve this cake! Simply scoop the cake onto plates with a large serving spoon. You can end there or garnish it with fresh fruits and berries, an extra dollop of whipped cream, or even a scoop of ice cream.