The much loved DoubleTree Chocolate Chip Cookies recipe found in the Hilton hotel. How to make them at home and why the recipe works.
When I'm feeling the need to be creative in baking or food photography but feel "stuck", I turn to cookies. Sometimes I work to create my own cookie recipe, other times I test tried and true "famous recipes".
I've been wanting to test the secret DoubleTree cookie recipe that they give guests at DoubleTree hotels and finally got to it last week. This article isn't to share a new recipe, but rather to tell you my experience with making this much loved chocolate chip cookie and tell you why it works.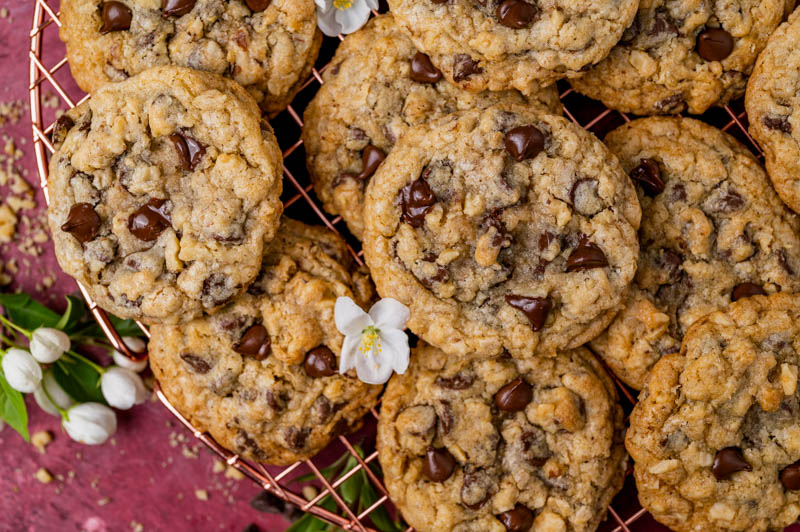 About DoubleTree Chocolate Chip Cookies:
Flavor: This cookie tastes, well…like a chocolate chip cookie. And a good one at that! It has a dash of cinnamon and a hint of lemon. But don't worry if that sounds strange because you can't really taste it in the cookie. It's sweet, loaded with chocolate and mild flavored walnuts.
Texture: Because this cookie has oatmeal and walnuts along with the chocolate chips, it's a chunky, sturdy cookie. It is soft in the middle, yet golden brown around the edges. It's not super soft and has a nice slight crunch to the edges.
Why I like this recipe
This is a great recipe and it's no wonder that people like it. I mean after all, what's not to love about getting a freshly baked cookie right as you check into a hotel for the night?
Here's why I specifically like this chocolate chip oatmeal cookie recipe:
No crazy ingredients. Yes, it does have a touch of lemon, but you can use bottled lemon juice if you don't have fresh. The other ingredients are pantry staples.
Exact instructions for mixing the dough. When I was young, I would throw all the ingredients for cookies into a mixing bowl at once and mix. I mean, why wouldn't it work? And it usually did, but there's methods to the mixing this recipe gives and you should follow it 100%. More on that below.
No chilling the dough. 🙌 Quick and easy, no waiting needed.
Sturdy cookies, great for gifting. As I was testing this recipe, I packaged up the cookies and gave them to our church college students in their "finals week care package". I even shipped some of them via USPS. The DoubleTree chocolate chip cookies are great for this because they aren't fragile.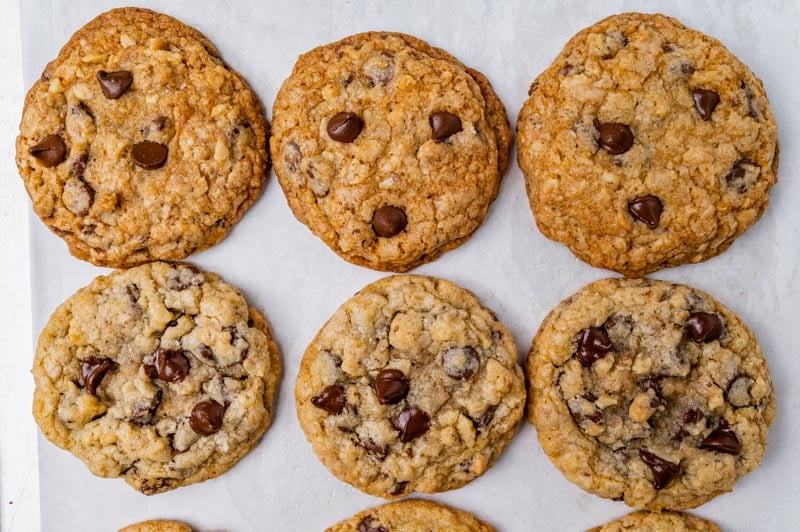 Tips for Making DoubleTree Cookies
Use real butter, not margarine. The recipe calls for unsalted butter because there is salt in the cookie, but we've used salted and it works just fine. Don't use margarine.
Mix the cookie dough exactly how it states. You'll notice that the recipe calls for creaming the butter and sugars for 2 minutes, then mixing the eggs in for 2 minutes, then mixing in the flour just until combined. Please follow these time guidelines. It is what gives the cookies the texture you know and love.
The original recipe calls for TollHouse chocolate chips, but you can use any brand you'd like. If you want to keep the original flavor, use semi-sweet chocolate chips.
Bake the cookies low and slow. Preheat the oven to just 300ºF and bake. The original recipe called for 20-23 minutes of baking. In my oven, the cookies got too brown for my liking at that length of time, so I baked our cookies for about 15-17 minutes.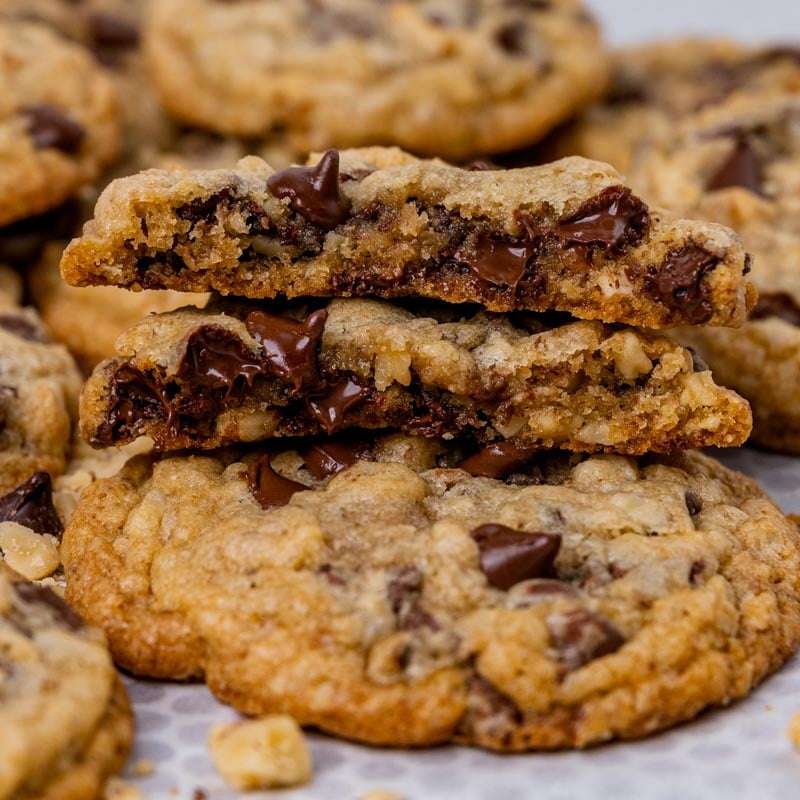 Storage Instructions
Store the cookies at room temperature in an airtight container for up to 3 days. Then freeze any leftovers.
The cookies freeze well. Double wrap them, first in plastic wrap, then in foil or another airtight container. When you are ready to thaw the frozen cookies, allow them to come to room temperature before opening the package to keep them soft.