Chinese Honey Chicken is a light and crispy tempura battered chicken dish tossed with a sweetened honey sauce made with just 6 total ingredients in 20 minutes!
Skip the Chinese takeout! Chinese Honey Chicken is the kid sister to the ever popular and expensive restaurant favorite of Honey Walnut Shrimp and the perfect recipe to serve alongside Lo Mein, Orange Chicken and Fried Rice.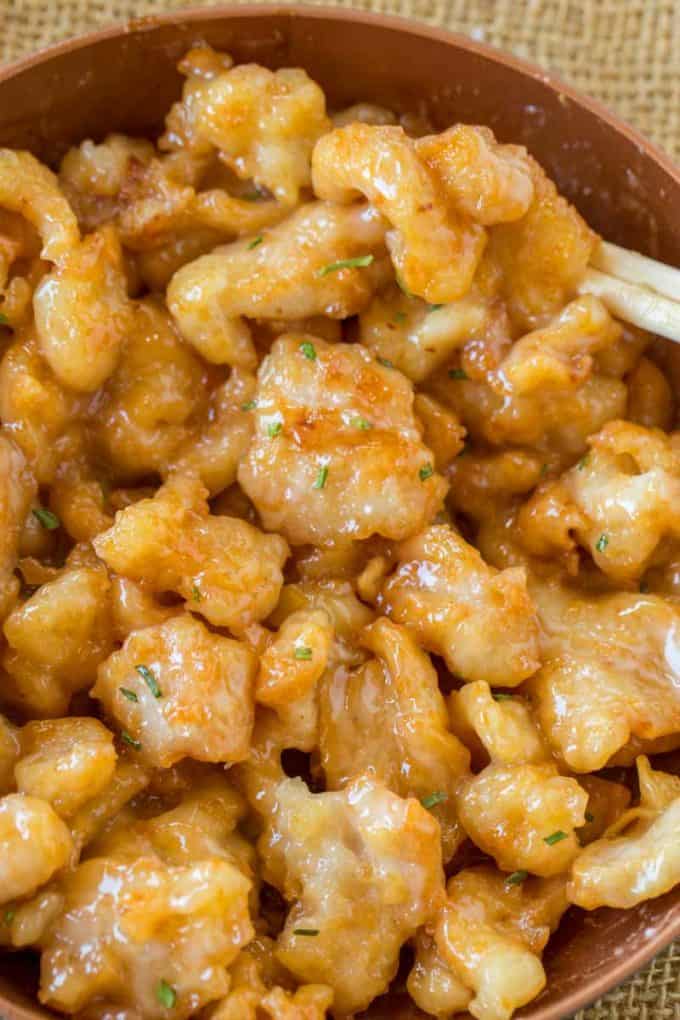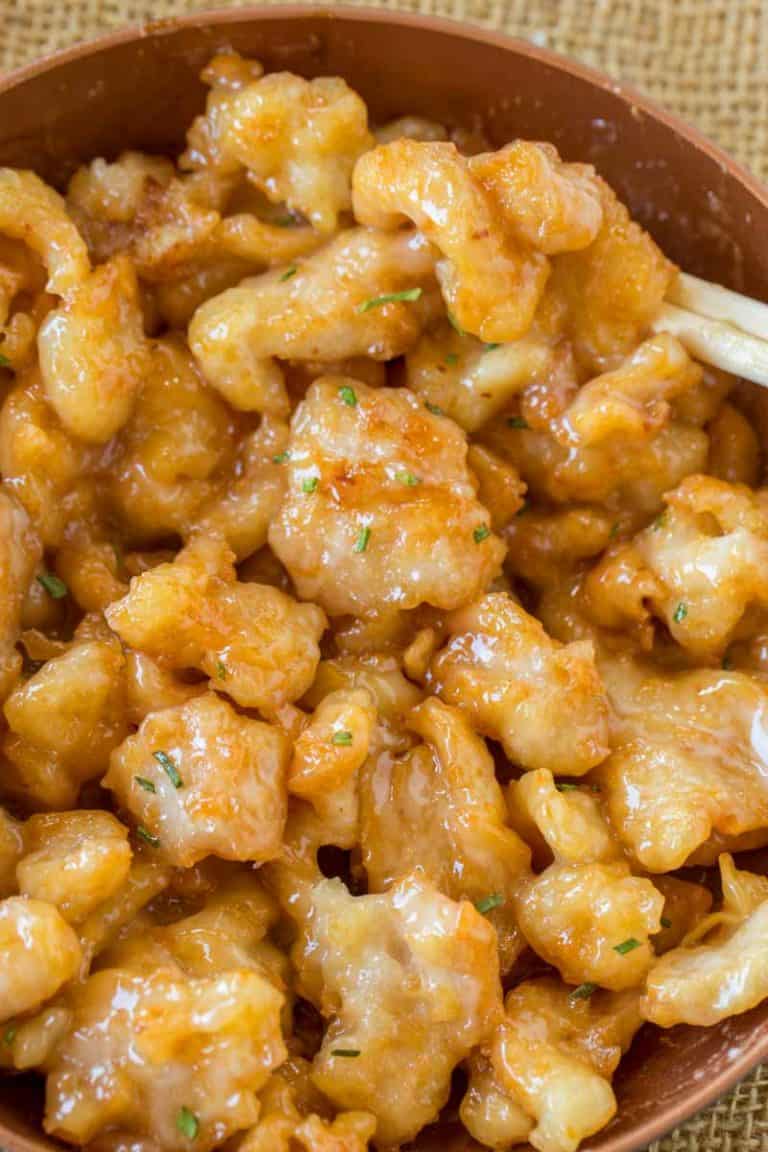 Chinese Honey Chicken
The crazy thing about this super crispy honey chicken is how few ingredients it takes to make (plus it is naturally gluten-free). Chinese restaurants are tricking us with how intimidating they pretend this recipe is because it tastes so light and crispy and sweet and we can't place the ingredients. But really, just 6 ingredients is all it takes and you'll swear it tastes as good as P.F. Changs!
How do you make Crispy Honey Chicken?
The secret to the recipe is really the minimal ingredients in the breading which allow the creamy honey sauce to be the star of the show. The egg whites add a light taste while the cornstarch keeps things really crispy. It's a take on a classic tempura recipe (like my crazy popular Tempura Shrimp).
What kind of chicken is used in Honey Chicken?
When cooking a tempura based Chinese recipe the meat is always a leaner cut of meat. In Chinese Honey Chicken we use chicken breasts to keep the bites of chicken as light as the light and crispy fried coating. If using a chicken thigh, the heaviness of the chicken would outweigh the tempura crunch.
How do you make Tempura Batter?
Tempura batter is a mixture of egg whites, cornstarch and water (or club soda) mixed over ice to keep it as light as possible.

Can you bake Honey Chicken?
No, this recipe requires deep frying because it has a wet batter. It will not create a crispy chicken if baked, it will cook into a pancake. You also cannot make this dish in a slow cooker or in an instant pot with any form of tempura batter.
What to serve with Chinese Honey Chicken?
We like to serve Egg Rolls, Spring Rolls, Potstickers or Crab Rangoon as appetizers, Brown Rice or Chinese Steamed Rice as easy side dishes and Chow Mein, Sesame Chicken or Sweet and Sour Chicken as accompanying dishes. Sweet and Sour Sauce or Sweet and Sour Pork would also provide a great flavor contrast to the flavors in this Honey Chicken recipe too.
If you'd like to garnish the dish you can use green onions, red pepper flakes, chives or sesame seeds.
Authentic Honey Chicken Recipe
In order for this to be an authentic Chinese restaurant version of Honey Chicken we'd have to use Mochiko Sweet Rice Flour. In order to test the necessity of this ingredient (it isn't the easiest to source) we did a side-by-side test with the mochiko vs cornstarch and found minimal difference in taste which led me to swap the ingredient for something much more likely to be in your cupboards.