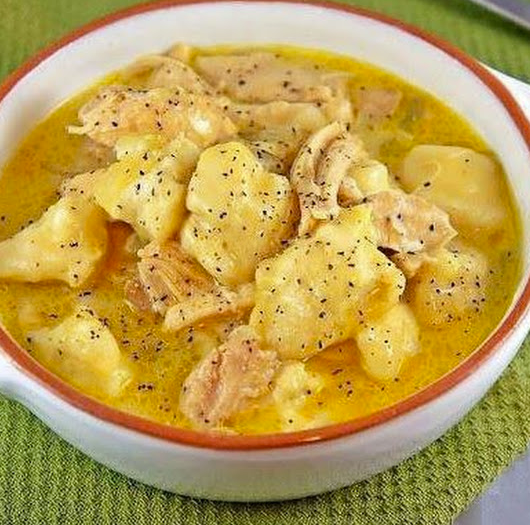 Delivery may call your name, but you have a lot of chicken and nothing to do, andnow is the perfect time to whip up a batch of these simple and comforting chicken and dumplings. Tuck it inside now.
Ingredients :
Soup
2 tsps vegetable oil
2 lbs (905 g) boneless, skinless chicken breast, diced
1 cup yellow onion cut into cubes
1 cup sliced ​​carrots
3 garlic cloves, minced
1 teaspoon salt
5 tsp butter unsalted
6 tsps allpurpose flour
6 cups chicken broth (1 liter)
½ cup heavy cream (120 ml)
½ teaspoon dried thyme
2 bay leaves
1 1/2 cups frozen peas (225 g)
4 tablespoons chopped fresh parsley
Dumplings
2 cups all-purpose flour (250 g)
1 tablespoon baking powder
Half a teaspoon of salt
Half a teaspoon pepper
1 1/4 cups heavy cream (320 ml)
Prepare
In sixquart Oven Dutch, heat vegetable oil on medium-high heat.Adding chicken also cooking to golden brown on both sides. We raise it from the pot and leave it aside.
Adding carrots & onions also cook to tender, for 3 min .Add garlic and fry for another minute until aroma appears.
Minimize heat to medium-low & adding butter & flour, stir constantly for 3 min to avoid lumps.
Return the chicken and accumulated juices to the pot and top with the dressing sauce.Adding broth chicken, cream, thyme, & bay leaf also bring to boil. Once the soup is simmering, add the frozen peas, cover and simmer for 15 minutes.
Make the dumplings: In a large bowl, mix the flour, baking powder, salt, pepper, and cream.Stir until mixture turns into dough.Using a large ice cream spoon or scoop, shape the dough into small balls about 1 inch (2 cm) in diameter (this will make 1,416 balls).
Put the balls of dough into the boiling soup (making sure they don't touch), add the parsley and cover. Let the soup simmer for 15 minutes, or until the dumplings are tender.
Pour into bowls, giving 1-2 dumplings per serving.
Enjoy!