Hawaiian rolls piled high with eggs, sausage and cheese. These baked Breakfast Sliders are a crowd pleaser.
Sliders are the best party sandwiches. Whether they are pizza or pulled pork or traditional baked ham sliders, they are always a hit!
If you're looking for brunch sliders, try these pork sausage, egg and cheese sliders. They stand tall on a soft Hawaiian bun and are brushed with savory, seasoned butter. Let's make them!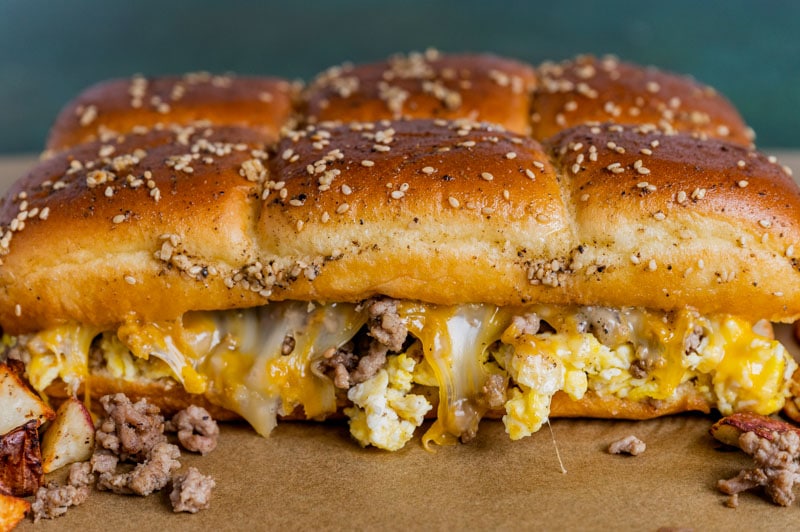 About these Breakfast Sliders:
Flavor: I love baked sliders because of the sweet & savory flavor. These are no different. They have the sweetness from the Hawaiian roll, but all of the savory flavors of breakfast sausage: sage, pepper and ginger.
Texture: Some sliders can be harder to eat, but because these have ground pork and scrambled eggs, they are easy to pick up and bite into. It won't be hard to cut them. The rolls stay soft, even during baking.
PACK YOUR MORNING WITH PROTEIN
Eating 20 – 30 grams of protein per meal helps fuel your body and may help you feel fuller. That being said, every 3 ounces of pork is packed full of 22 – 24 grams of protein depending on the cut. That makes these breakfast sliders the perfect way to start the day.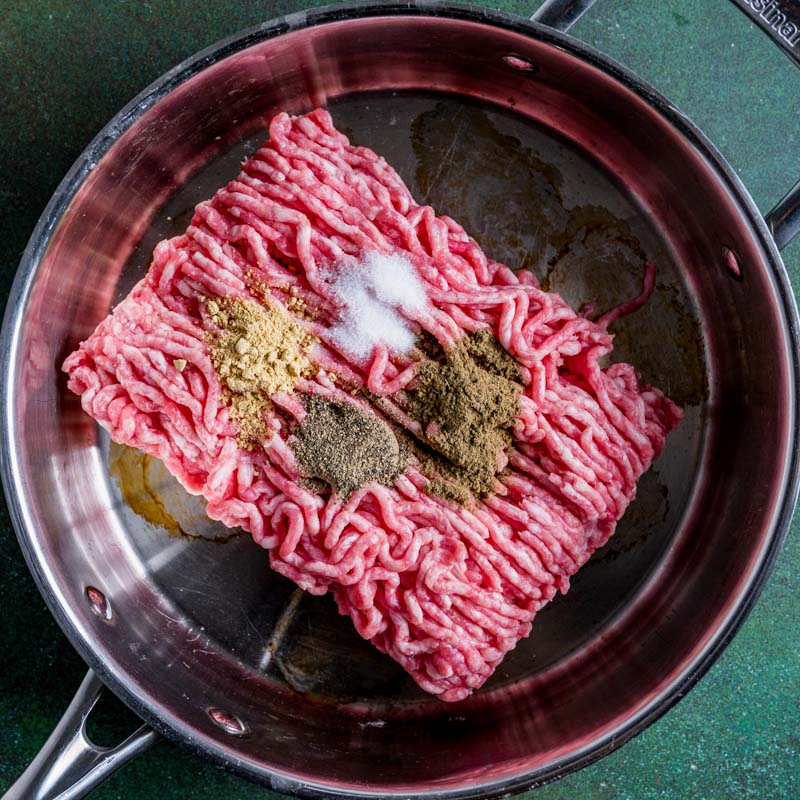 Make Breakfast Sausage from Ground Pork
Start this recipe off by seasoning ground pork to taste like the best homemade sausage. Use one pound of ground pork and add 1 teaspoon of salt, 1 teaspoon of pepper, 1 teaspoon of sage, ½ teaspoon of ginger and a dash of cayenne pepper.
Simply add the pork and the seasonings to a skillet, then brown the ground pork, mixing the seasonings in while you go.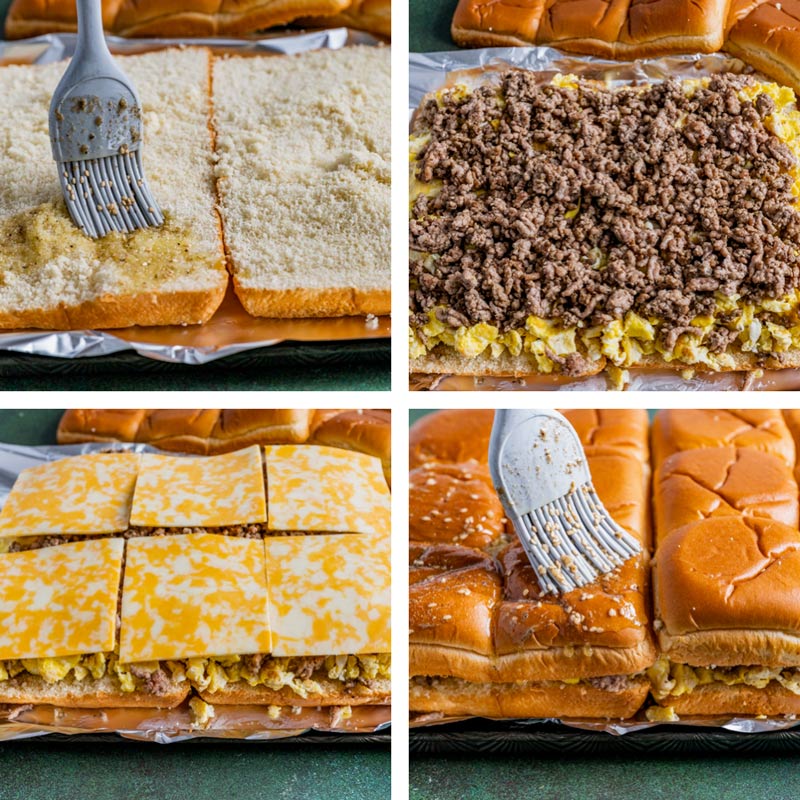 How to Make Breakfast Sliders
Brown the ground pork and seasonings. Drain off any fat.
Make scrambled eggs.
In a small bowl, mix together the melted butter, seeds, garlic, black pepper, ginger and sage. Whisk well.
Use a large serrated knife to slice the rolls in half, separating the tops from the bottoms. Place the bottom of the rolls onto the foil lined baking pan.
Brush a few tablespoons of the butter mixture onto the bottom of the rolls.
Layer the scrambled eggs over the rolls. Then cover the eggs with the cooked pork sausage. Top with sliced colby cheese.
Place the tops of the rolls onto the sandwiches. Brush the remaining butter mixture evenly over the rolls.
Cover the rolls loosely with foil. Bake in the preheated oven until the rolls are lightly browned and the cheese has melted, about 20 minutes. Uncover the rolls and bake for an additional 3-5 minutes.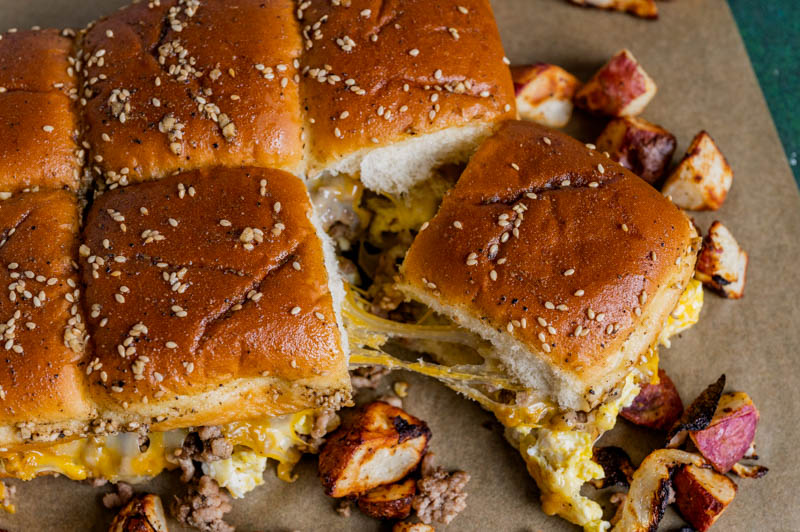 Recipe Variations
Need a shortcut? Use pre-seasoned ground pork sausage.
Use canadian bacon, ham or traditional bacon instead of ground pork.
Switch up the type of cheese to any you'd like.
Don't have slider buns? Use hamburger buns and wrap each sandwich individually. Bake for the same amount of time.