It is so quick and easy to bake a batch of Air Fryer Garlic Knots with a simple can of pizza dough crust that's coated in olive oil and spices then dusted with parmesan and parsley. These mini bread bites are tender, flaky, crispy, and crunchy–only 5 minutes in the air fryer and you've made a deliciously flavorful appetizer, side, or game day hors d'oeuvre.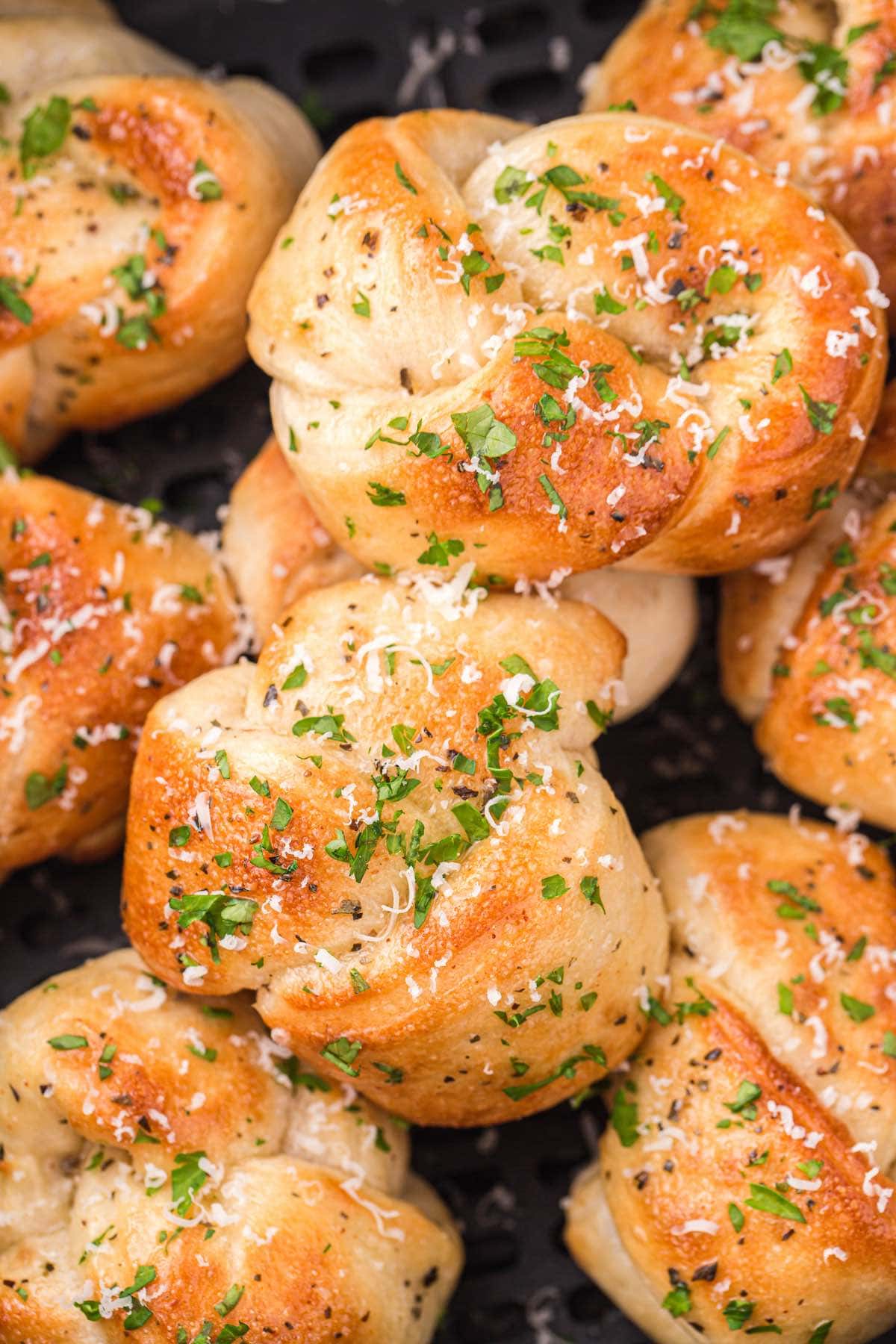 EASY AIR FRYER GARLIC KNOTS
This Air Fryer Garlic Knots recipe is an easy and convenient way to bake your bread, especially when you are in a hurry and don't want to heat an entire oven. In fact, this is one of my favorite appliances for fast cooking and can transform your pizza dough plus a few simple spices into delicious small bites of bread.
In a matter of minutes, you can cut the pre-made pizza crust into strips, twist and "tie" them, then sprinkle them with a spiced olive oil mixture, and bake until golden brown. Add a little more oil or brush with butter and top with some parmesan, these air fryer garlic knots are the perfect savory snack or appetizer that just tastes garlicky good!
Crispy and crunchy on the outside and light and fluffy within, these tiny twists are full of flavor that my family prefers over the one's from the pizzeria. Air Fryer Garlic Knots are my favorite way to get fresh bread on the table; you can even bake them into breadsticks just by keeping them long instead of knotting them. Serve them alongside a salad, with soup, or some pasta, this garlic roll recipe is also ideal for dipping.
For more savory air fryer recipes, you must make my Air Fryer Chicken Parmesan or Air Fryer Mozzarella Sticks. Or for a simple sweet treat, try my Air Fryer Donuts, Air Fryer Caramel Apple Dump Cake, or Air Fryer Croissants.
WHY WE LOVE THIS AIR FRYER GARLIC KNOTS RECIPE
Quick and easy to make in the air fryer in 15 minutes.
Uses a can of pizza dough plus simple seasonings that bake into delicious bread bites.
Soft, flaky and full of flavor.
Garlic knots go great with dips, sauces, and dressings
Perfect finger food for game day, parties, or served alongside the main meal.
INGREDIENTS
Garlic salt: You can use garlic powder and salt instead. The ratio should be 3 parts salt to one part garlic.
Dried basil
Onion powder
Pizza crust: Feel free to use homemade pizza dough. You can also use crescent roll sheets.
Olive oil spray: Butter spray, vegetable oil spray, or coating the knots with any of these non-spray options using a brush will also work for this recipe.
Grated parmesan cheese (optional garnish)
Parsley, minced (optional garnish)
SUBSTITUTIONS AND ADDITIONS
Different Dough: You can use biscuit dough or a can of crescent rolls instead of the pizza crust dough.
Add Fresh Flavor: Feel free to add some herbs to the butter mixture, like freshly chopped oregano or parsley.
Bake Breadsticks: Instead of twisting the dough into knots, simply leave the strips long and enjoy them as breadsticks.
RECOMMENDED TOOLS
Air Fryer – I am obsessed with my Cosori air fryer! Cosari just sent me their newest one to try. Check it out here (Affiliate link) Cosori Dual Blaze Air Fryer. I am an air fryer junkie and this one is by far my favorite! (no flipping or shaking needed!)
Knife or Pizza cutter
Small bowl
Measuring tools
SEE FULL PRINTABLE RECIPE CARD BELOW
HOW TO MAKE THE AIR FRYER GARLIC KNOTS
This garlic bread recipe is the quickest and easiest way to bake fresh bread at home. In a matter of minutes, you can cut, twist, top, and cook your dough into little handheld bites that are full of delicious flavor.
Whisk together the garlic salt, basil, and onion powder and set aside.
Unroll the pizza crust dough and cut it widthwise to make ten 1-inch rectangular strips.
Pro Tip: You don't want to cut the strips the lengthwise because then the strips will be too long to create a nice knot.


Wrap the middle of each strip around itself to create a knot and then tuck the loose ends behind itself.
Pro Tip: You will create a loose knot because you will not be able to pull the knot to tighten it.


Spray all the knots with the olive oil spray.
Sprinkle spice mixture over all the knots (a small pinch of spices per knot).


Place them in the air fryer.


Bake at 350 degrees Fahrenheit for 5-6 minutes or until the knots turn golden brown.
TIP: All air fryers cook differently. You may need to increase the temperature slightly or cook for a few minutes longer.
When the knots are done baking, spray them with a little more olive oil or brush with melted butter and then top with parmesan cheese and/or parsley, optional.


Serve and enjoy!
STORAGE TIPS
To Store: Store any leftover garlic knots in an airtight container at room temperature for up to 2 days. If you don't use them in that amount of time, place them in the refrigerator for 6-7 days
To Freeze: Garlic knots can be frozen for up to 3 months if placed in a freezer-safe bag or container.
To Reheat: Reheat garlic knots in the air fryer at 350 F for 1-4 minutes depending on the temperature of the garlic knot.
FREQUENTLY ASKED QUESTIONS
Can I make my own dough?
Yes, you can absolutely make your own dough. Feel free to use your favorite homemade dough and follow the rest of this recipe.
Can I bake these in the oven if I don't have an air fryer?
You can easily bake these garlic knots in the oven. Place them on a sheet pan lined with parchment paper or cooking spray and bake at 380 F for 6-8 minutes or until golden brown. Don't forget to preheat the oven before using it!
What can I dip my garlic knots in?
These garlic knots go great with a few different dipping options. A classic go-to is a marinara sauce or something similar. I particularly recommend bruschetta sauce. You can also dip these into ranch, blue cheese, or caesar dressing. For a healthier option, try hummus. Or just go the opposite way with some melted butter sprinkled with garlic powder.