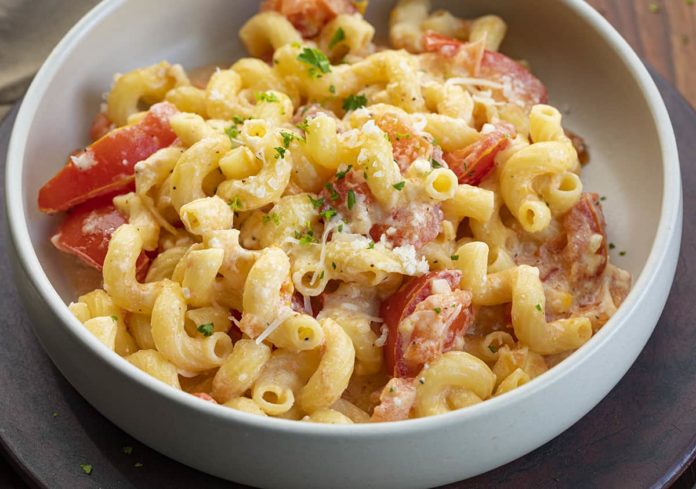 6-Cheese Roasted Tomato Pasta is a creamy and delicious meal that is made with six kinds of cheese, garlic, roasted tomatoes, and pasta noodles.
Ingredients
6 medium tomatoes, cut into ½-inch pieces (bite-sized)
6 cloves garlic, diced
2 tablespoons olive oil
1 teaspoon salt
½ teaspoon pepper
2 ounces cream cheese
¼ cup feta cheese, crumbled
¼ cup Gruyere cheese, shredded
¼ cup white cheddar cheese, shredded
¼ cup mozzarella cheese, shredded
¼ cup heavy cream
8 ounces cavatappi noodles, cooked al dente
2 tablespoons parmesan cheese, grated, for garnish
parsley, for garnish
salt and pepper, to taste
Instructions
Instructions
Preheat oven to 400°F.
To a 9×13-inch baking dish, add tomatoes, garlic, olive oil, salt, and pepper. Toss to evenly coat.
Make a well in the center of the dish and to it, add the cream cheese, feta, Gruyere, white cheddar, mozzarella, and heavy cream. Do not mix.
Bake, uncovered, for 30 minutes.
Remove from the oven, add the cooked noodles, and stir until everything is combined.
Serve topped with parmesan cheese and parsley.